BEIJING - China hopes a Japanese boy whose life was recently saved by a Chinese student can contribute to bilateral friendship when he grows up, Foreign Ministry spokesman Qin Gang said on Thursday.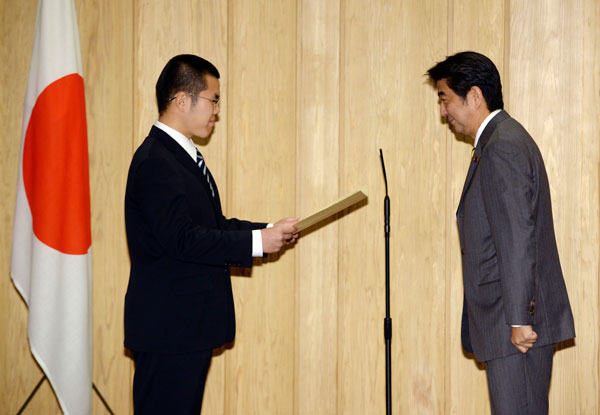 Shanghai-born Yan Jun (L), 26, receives a certificate of appreciation from Japan's Prime Minister Shinzo Abe for his rescue work in saving a nine-year-old boy from a typhoon-swollen river in Osaka on September 16, 2013, at Abe's official residence in Tokyo November 13, 2013. Yan was invited to the prime minister's official residence to be recognized for his heroism along with Masao Kuniyoshi who rescued a man from a fire in Tokyo. [Photo/Agencies]
Qin's comment came after Japanese Prime Minister Shinzo Abe on Wednesday handed a letter of commendation to Chinese student Yan Jun for rescuing a boy who fell into a river in Osaka in September.
At a ceremony held at the prime minister's office, Abe applauded the 26-year-old Chinese man for his "courageous act" that serves as a good example for young Japanese, according to media reports.
According to Qin, the incident shows the strength of traditional "Good Samaritan" virtues in China. He noted that the Chinese Embassy in Japan also held a ceremony to honor the student, with ambassador Cheng Yonghua presenting Yan with a commendation certificate on that occasion.
"We also hope the rescued child can grow happily and healthily, and contribute to bilateral friendship when he grows up," the spokesman added.
Japanese Chief Cabinet Secretary Yoshihide Suga said on Wednesday that Japan and China have a responsibility to contribute to global peace and stability and that Japanese citizens all know on a personal level that friendship between Japan and China is vital.
China has urged the Japanese government to improve bilateral ties with China through concrete action after relations soured following the Japanese government's unilateral move in September 2012 to "nationalize" part of the Diaoyu Islands, which have been Chinese territory since ancient times.