Apple, Samsung retrial kicks off over patent damages
Updated: 2013-11-14 18:00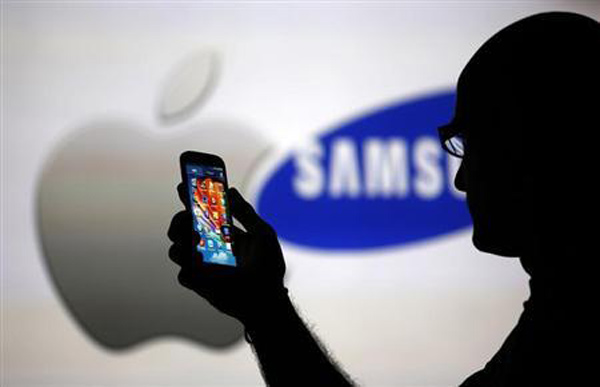 A man is silhouetted against a video screen with Apple and Samsung logos as he poses with a Samsung Galaxy S4 in this photo illustration taken in the central Bosnian town of Zenica, August 14, 2013.
[Photo / Agencies] 
Apple squared off against Samsung Electronics at a damages retrial on Wednesday, as the iPhone maker once again tries to secure a legal victory against its biggest mobile rival.
Apple attorney Harold McElhinny told jurors in a San Jose, California federal court that Samsung should pay $379.8 million for violating five patents on the iPhone. Samsung attorney William Price, meanwhile, said Samsung should only have to pay about $52.7 million.
Apple and Samsung are engaged in global litigation over each other's intellectual property. Last year, Apple was awarded over $1 billion after it convinced a jury that Samsung copied various iPhone features - like using your fingers to pinch and zoom on the screen - along with design touches like the phone's flat, black glass screen.
Last year's verdict was a high point in Apple's legal war on Google's Android operating system, which Samsung uses on its phones. US District Judge Lucy Koh in San Jose then rejected Apple's request for a permanent ban on the sale of some Samsung products in the lucrative US market. Apple has appealed that decision.
Then, in March, Koh ruled that the previous jury had made some errors in its calculations, impacting about $400 million of the verdict. She ordered a retrial of that portion of the original award.
In court on Wednesday, McElhinny said Samsung had sold about 10.7 million phones that infringe Apple's patents, generating $3.5 billion in revenue. Apple was entitled to be made "whole," he said in an opening statement.
Just a minute into his presentation, McElhinny invoked Apple's iconic founder, Steve Jobs, with a video of Jobs unveiling the iPhone back in 2007. McElhinny asked the six-woman, two-man jury to remember when the iPhone's signature features were brand new, and the business risk Apple had taken to develop the product.
"If Apple had invested all that time and money and product had not worked, it would have been a major blow," McElhinny said.
However, Samsung attorney William Price said $52 million is "not a trivial amount" for Samsung to pay. While Samsung violated some Apple patents, Price said, those ideas were not new. Apple should not be rewarded with a windfall damages award based on the 13 Samsung products at issue during trial.
"Apple is simply asking for much more money than it's entitled to," Price said.
The jury includes a pharmacist, a medical researcher at Stanford and a licensed therapist. The trial is expected to last about a week, with jury deliberations to follow.
The case in US District Court, Northern District of California is Apple Inc vs Samsung Electronics Co Ltd, 11-1846.