Samsung's response fails to satisfy users
Updated: 2013-10-24 23:48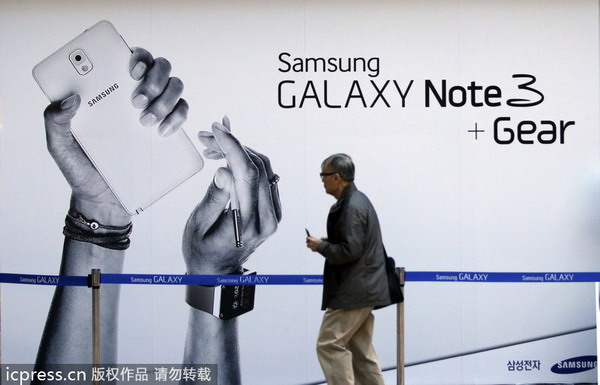 A South Korean man walks by an advertisement of Samsung Electronics' Galaxy Note 3 smartphone at a train station in Seoul, South Korea, Oct 25, 2013. [Photo/icpress.cn] 
Company apologizes for inadequate after-sales service reported by CCTV
Electronics maker Samsung apologized on Wednesday to consumers in China after China Central Television criticized the South Korean company for its after-sales service and its failure to fix glitches in several of its smartphone models.
Samsung (China) Investment Co Ltd issued the apology in response to CCTV reports earlier this week that seven smartphones models under the Galaxy Note II and Galaxy S3 series were constantly crashing or malfunctioning. It also reported on Monday and Tuesday that consumers in China were charged high repair fees and that Samsung said it would provide free maintenance for several of its smartphone models.
The apology from Samsung comes months after its rival Apple Inc apologized for its warranty policies.
Samsung said in a statement on Wednesday that it will repair the seven smartphones models under the Galaxy Note II and Galaxy S3 series for free if consumers find serious malfunctions.
China Daily discovered, however, that the company has not made good on its guarantees. Phone calls to 10 of its 17 customer service centers in Shanghai revealed that free maintenance is not provided.
"We have yet to be informed of the company's offer for free repairs. We've received dozens of phone calls from customers inquiring about the service today but they still need to pay for the repairs for now," said a repairman surnamed Zhang at a Samsung customer service center on Huangxing Road in Yangpu district.
In its statement on Wednesday, Samsung also said that for "consumers who have already paid for maintenance of mobile phones of the models mentioned, Samsung will offer a full refund for the maintenance fee."
The company also guaranteed consumers in China a free replacement if a mobile phone fails to work after two attempts to repair it and extended the warranty period for the seven models of smartphones produced before Nov 30, 2012, for another year. The original warranty period was a year.
When China Daily anonymously approached a customer service center on East Nanjing Road in Huangpu district in Shanghai, a request for a refund was turned down.
"You can register your information with us, but the specific solution for a refund will come out in November," said the customer service executive, who declined to give her name.