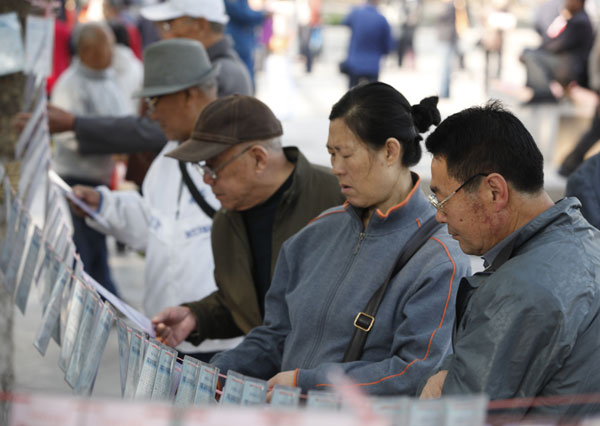 Seniors read information posted at a matchmaking party in Qingdao, Shandong province. The party attracted more than 2,000 people who were looking for partners. Zhang Lei / for China Daily
Many older people cohabit because of family pressures, Zhou Wenting reports in Shanghai.
Onlookers could be forgiven for thinking that Ni Xinhong and Shen Huijuan are a married couple.
The divorcees, who met in August 2010 and began living together three months later, alternating between homes because they felt they had "clicked", have been inseparable for the past three years and do everything as a couple.
However, family, not social, pressures mean they have shied away from marrying.
"The objections from the children on both sides were overwhelming. So we finally compromised by moving in together, but keeping our finances separate," said Ni, a 63-year-old retiree from Shanghai.
Once, such a move would have been unthinkable, but there has been a sea change in social customs, according to sociologists who say the public has given tacit consent to cohabitation as a form of second marriage.
Against the backdrop of China's rising divorce rate, Ni and Shen, 55, were among the thousands of middle-aged and senior lonely hearts seeking love.
Official data show that during the past seven years China's divorce rate has risen by 8 percent annually. In 2012, more than 3 million couples filed for divorce, while about 13 million took the plunge, according to the Ministry of Civil Affairs.
Today, approximately 80 percent of Chinese seniors seeking a permanent partner say they would opt to cohabit rather than marry, according to matchmaking agencies, who said the move is usually prompted by pure pragmatism.
"The intention of the majority of those without (marriage) registration is to prevent future problems, such as the division of property after death. The soaring price of housing in recent years has seen property wrangles become the main source of complaints from the younger generation," said Zhou Huiming, a legal advisor with the Shanghai Retired Employees Administration Committee under the Shanghai Federation of Trade Unions.
However, some experts have warned that these "unregulated" relationships may trigger problems, partly because they aren't covered by Chinese law and partly because of the fear that social stability may be eroded if cohabitation becomes the prevailing norm.
Demographic changes
Second marriages and cohabitation are also the results of changing demographics, especially China's aging society, according to Zhou. "Single retirees feel they can't rely on the government to provide for their old age, so they're finding their own ways of solving the problem, including second marriages and cohabitation," he said.
Ni said he and Shen considered getting married, but his sons were strongly opposed. "My eldest son, who works in Beijing, rushed home to stop me from getting married."
"They said it's fine if you want to keep each other company and we don't mind if you want to live at her place or she comes to live with you. The only non-negotiable thing is getting married," he said.
Ni and Shen live a life indistinguishable from that of any married couple, but without a certificate. They are both happy with their situation, which, they say, was inspired by other people's failed second marriages.
"A friend of mine remarried. She sold her apartment and moved in with her new husband, but they divorced after six months because the husband's children quarreled with her every day. She had to look for a new home," said Shen.
She said her relationship with Ni leaves plenty of freedom for both partners. "Without a certificate, we can have an easy ending if the relationship turns bitter some day."
However, she admitted that sometimes she can't ignore the feeling of not being respected by Ni's children.
"His sons often look at me as though I've taken advantage of their family and their father has given me everything valuable that their mother left," said Shen.
She said the young people simply don't understand that they are taking care of each other because their children work far away from their home city.