WASHINGTON - Outgoing US Secretary of State Hillary Clinton sidestepped questions about whether she would run for president in 2016 in a CBS television interview done jointly with President Barack Obama, her rival in the 2008 race.
Clinton, 65, denied there were any political tea leaves to read in the unusual joint interview for the CBS show "60 Minutes," and acknowledged that she still has "some lingering effects" from a recent concussion and blood clot that she said doctors expect to disappear over time.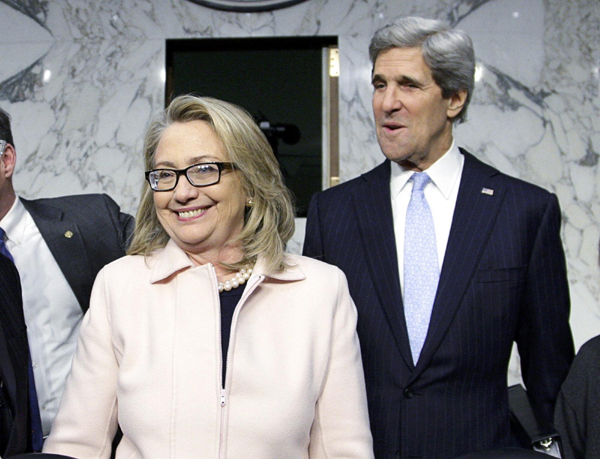 US Senator John Kerry (D-MA) and Secretary of State Hillary Clinton arrive prior to Kerry's confirmation hearing to succeed Clinton, before the Senate Foreign Relations Committee on Capitol Hill in Washington, Jan 24, 2013. [Photo/Agencies]
"The president and I care deeply about what's going to happen for our country in the future. And I don't think, you know, either he or I can make predictions about what's going to happen tomorrow, or the next year," Clinton said, according to a transcript of the interview, which was taped at the White House on Friday and aired on Sunday.
Obama beat Clinton in a bitter Democratic primary campaign to run for president in 2008. He surprised many by choosing her as his secretary of state, a job she said she initially turned down.
Clinton traveled to a record 112 countries as secretary of state. She has said she wants to take a break from public life, but has not said she will retire.
Democratic Senator John Kerry, who unsuccessfully ran for president in 2004, is expected to be confirmed as Obama's new secretary of state as early as this week.
After Obama heaped praise on Clinton's diplomatic achievements, he chided the show's host, Steve Kroft, who asked about "the date of expiration on this endorsement" of Clinton.
"You guys in the press are incorrigible. I was literally inaugurated four days ago. And you're talking about elections four years from now," Obama said.
'Lingering effects' from fall
Clinton has been in the public eye for 34 years, since her husband, former President Bill Clinton, was governor of Arkansas.
Her cautious answer about her future on Sunday was less definitive than one she gave in an ABC interview in December, when she said in reference to another bid for the presidency: "I've said I really don't believe that that's something I will do again."
Many Democrats hope that Clinton will run in 2016. Vice President Joe Biden's name has also been frequently mentioned among Democrats. He has said he has not decided whether to run.
Clinton also addressed a recent health issue: a concussion and blood clot that sent her to the hospital.
"The doctors tell me that that will all recede. And so thankfully I'm, you know, looking forward to being at full speed," she said.
She said she had since been wearing glasses instead of contact lenses because of "lingering effects" from the concussion "that are decreasing, and will disappear."
Clinton returned from a European tour on Dec 7 suffering from a stomach virus. On Dec 15, the State Department announced she had become dehydrated, fainted and suffered a concussion.
During a check-up afterwards, she was diagnosed with the blood clot, hospitalized and treated with blood thinners.