US Secretary of State Hillary Clinton sustained a concussion last week after becoming extremely dehydrated and fainted while suffering from a stomach virus, the State Department said.
Clinton, 65, is recovering at home and has been advised by her doctors to continue to rest and avoid strenuous activity and cancel all work events for the next week. She had been scheduled to testify before a pair of congressional panels looking into the Sept 11 attack against a diplomatic outpost in Benghazi, Libya.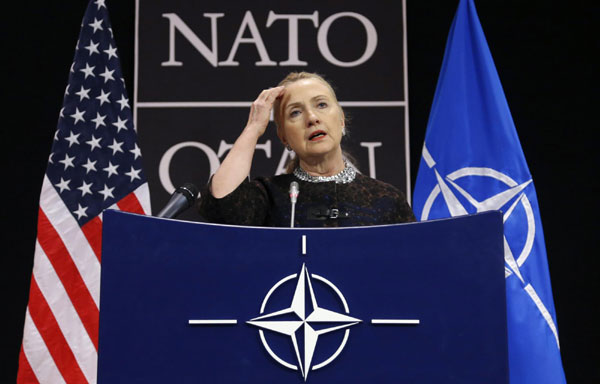 US Secretary of State Hillary Clinton at a news conference on Dec 5 at NATO headquarters in Brussels. Clinton is recovering at home after suffering a concussion, a spokesman said on Saturday. [Photo/Agencies]
Dr Lisa Bardack of the Mt. Kisco Medical Group and Dr Gigi El-Bayoumi of George Washington University said on Saturday that Clinton was suffering from a stomach virus and fainted after becoming extremely dehydrated.
Clinton was diagnosed with a concussion on Thursday after fainting at home earlier this week, according to a State Department official who spoke on condition of anonymity because he was not authorized to discuss Clinton's injury publicly. The doctors did not determine it to be a "severe" concussion, the official said.
Clinton, who is expected to leave her job soon, skipped an overseas trip this past week because of the stomach virus, the State Department said on Saturday.
US President Barack Obama telephoned his top diplomat on Saturday to wish her well, a White House official said.
The State Department said in a statement that Clinton will continue to work from home in the week ahead and looks forward to returning to the office "soon".
The Senate Foreign Relations Committee said it won't hear from Clinton as planned at a hearing on Thursday into the attack at the outpost in Benghazi that killed four US citizens, including the US ambassador. The House Foreign Affairs Committee also said Clinton will no longer give scheduled testimony at its hearing on Thursday on Libya.
In a separate development, Obama is expected to nominate Senate Foreign Relations Committee Chairman John Kerry to succeed Clinton as secretary of state, sources familiar with the process said on Saturday.
Kerry, the Democratic nominee for president in 2004 and a stalwart Obama supporter, had been widely tipped as the likely candidate for top US diplomat following the withdrawal last week of Susan Rice, US ambassador to the United Nations.
The announcement of Kerry's nomination could come as early as mid-week, according to one source with knowledge of the situation, although it could also be delayed to avoid the impression of an overly hasty return to politics following the massacre at a Connecticut elementary school on Friday.
The source said the White House is leaning toward unveiling Kerry's nomination as part of a high-profile package that would include Obama's pick for defense secretary.
Chuck Hagel, former Republican US senator is the top candidate to take over the Pentagon, and the White House's vetting process for him is virtually complete, the source said.
AP-Reuters