JERUSALEM - Israelis trickled into the polls Tuesday morning in the country's early parliamentary elections, with opinion polls predicting an easy win for a right-wing union led by incumbent Prime Minister Benjamin Netanyahu.
Voting started at 7 am local time (0500 GMT) Tuesday at 10,132 polling stations across the country, and is due to end at 10 pm. According to the Central Election Committee, there are more than 5.66 million Israeli citizens eligible to vote.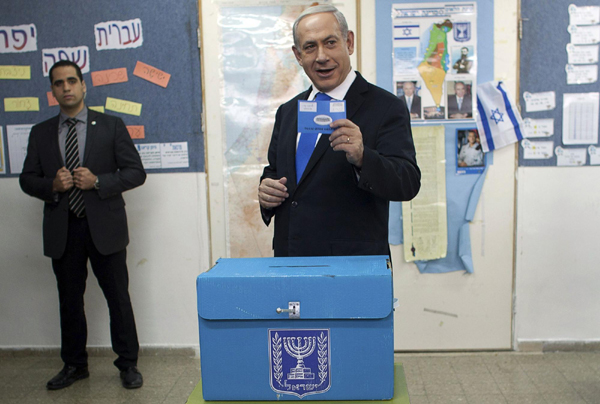 Israel's Prime Minister Benjamin Netanyahu casts his ballot for the parliamentary election at a polling station in Jerusalem, Jan 22, 2013. [Photo/Agencies]
Accompanied by wife Sara and two sons, Netanyahu cast his vote at a polling station near his residence in Jerusalem's Rehavia neighborhood.
"This is the first family vote. Whoever wants Israel to succeed should vote for one big party," Netanyahu said after voting. "It's not a rainy day, but we hope it will rain Likud ballots."
A new immigrant, Lavi, who only gave part of his name, told Xinhua he voted for Netanyahu's Likud party. "He (Netanyahu) is strong and I believe he can cope with things like the economy."
At one polling station in Jerusalem, where dozens of voters were going in and out, Rachel and Moshe Cohen told Xinhua: "It is important to vote today, and give strength to the correct candidates. We won't feel good with ourselves if we give up our right to vote."
Harel Yochanan, a 24-year-old man, was standing outside and waiting: "I'm still not sure who to vote for. My dilemma is between a large and powerful party and a new party that might make a greater difference."
The elections, originally set for October this year, were moved forward due to a failure of parties in the Knesset to agree on a new budget.
A total of 32 parties are running for the 120 seats in the one-chamber parliament, the Knesset. The Likud-Beitenu union led by Netanyahu and former foreign minister Avigdor Lieberman is expected to get around 32 seats, making it the largest bloc in the new parliament, according to final opinion polls published at the weekend.