JAKARTA - Heavy floods in Indonesia's capital of Jakarta since Tuesday have killed 20 and affected about 250,000 people, an official said on Monday.
On Monday, the floods have receded in most of the affected areas, but in North Jakarta, the waters remain submerged in some areas, Lukman Hakim, official in charge at the national disaster management and mitigation agency told Xinhua over phone.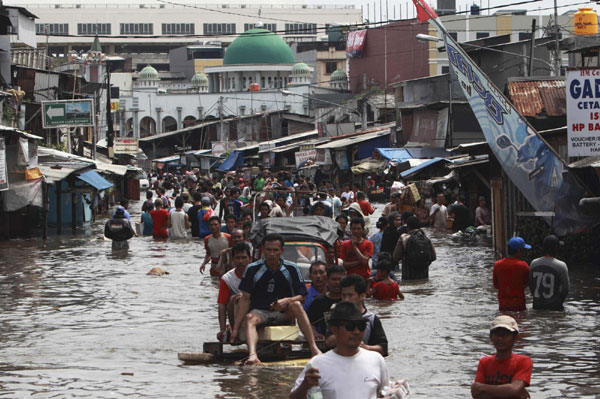 People make their way to the market through a flooded street at the Muara Baru district in Jakarta January 20, 2013. Severe floods in Jakarta eased on Friday, a day after unusually heavy monsoon rains swamped parts of the Indonesian capital in waist-deep water and left more than 18,000 people homeless.[Photo/Agencies]
"The latest data that we have today (Monday) showed that 20 people have been killed by the floods," Nelis Zuliansri , spokesperson of the agency told Xinhua over phone.
"They were killed by electricity shocks and being drawn," she said.
Lukman said that the floods have affected 249, 154 people.
The floods have been caused by a five-year cycle of monsoon rain, according to the meteorology and geophysics agency.
The disaster paralyzed business and official activities in Jakarta on Thursday as it inundated business centers and government official buildings.
Jakarta policymakers have declared an emergency status by up to January 27.

Photos:

Jakarta under water