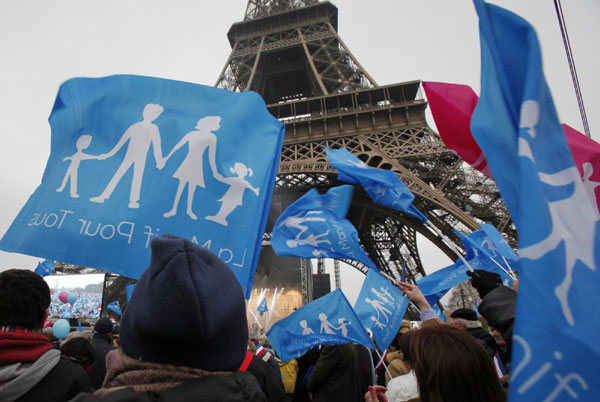 Demonstrators gather on the Champ de Mars near the Eiffel Tower in Paris, to protest France's planned legalisation of same-sex marriage, Jan 13, 2013.[Photo/Agencies]
PARIS - Several hundred thousand people massed at the Eiffel Tower in Paris on Sunday to protest against President Francois Hollande's plan to legalise gay marriage and adoption by June.
Three columns of protesters, waving pink and blue flags showing a father, mother and two children, converged on the landmark from different meeting points in Paris. Many came after long train and bus rides from the provinces.
Hollande has pledged to push through the law with his Socialists' parliamentary majority but the opponents' campaign has dented public support and forced deputies to put off a plan to allow lesbian couples access to artificial insemination.
Champ de Mars park at the Eiffel Tower was packed, but turnout estimates varied widely. Organisers claimed a million people had protested, while police put the number at 340,000, high even in protest-prone France.
"Nobody expected this two or three months ago," said Frigide Barjot, a flamboyant comedian leading the "Demo for All". At the rally, she read out a letter to Hollande asking him to withdraw the draft bill and hold an extended public debate on the issue.
Strongly backed by the Catholic Church hierarchy, Barjot and groups working with her mobilised church-going families and  political conservatives as well as some Muslims, evangelicals and even homosexuals opposed to gay marriage to protest.
Hollande's office said the turnout was "substantial" but would not change his determination to pass the reform.