QUETTA, Pakistan - At least 101 people were killed in bombings in two Pakistani cities on Thursday in one of the country's bloodiest days in recent years, officials said, with most casualties caused by sectarian attacks in Quetta.
The bombings underscored the myriad threats Pakistani security forces face from homegrown Sunni extremist groups, the Taliban insurgency in the northwest and the less well-known Baloch insurgency in the southwest.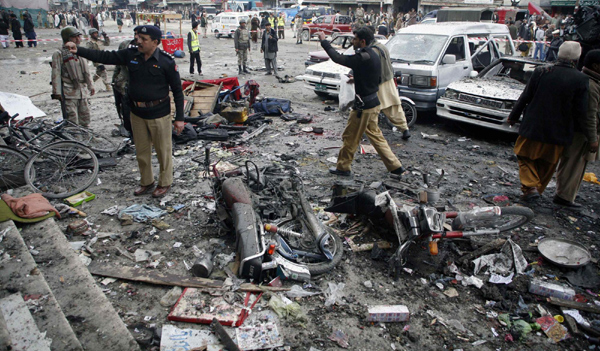 Police officials investigate at the scene of a bomb explosion in Quetta Jan 10, 2013. [Photo/Agencies]
On Thursday evening, two coordinated explosions killed at least 69 people and injured more than 100 in Quetta, the provincial capital of Balochistan, said Deputy Inspector of Police Hamid Shakil.
The first attack, in a crowded snooker hall, was a suicide bombing, local residents said. About ten minutes later, a car bomb exploded, they said. Five policemen and a cameraman were among the dead from that blast.
The attacks happened in a predominately Shia neighbourhood and banned sectarian group Lashkar-e-Jhangvi claimed responsibility. The extremist Sunni group targets Shias, who make up about 20 percent of Pakistani's population.
Targeted killings and bombings of Shia communities are common in Pakistan, and rights groups say hundreds of Shia were killed last year. Militant groups in Balochistan frequently bomb or shoot Shia passengers on buses travelling to neighbouring Iran.
The killers are rarely caught and some Shia activists say militants work alongside elements of Pakistan's security forces, who see them as a potential bulwark against neighboring India.
Many Pakistanis fear their nation could become the site of a regional power struggle between Saudi Arabia, source of funding for Sunni extremist groups, and Iran, which is largely Shia.  
But sectarian tensions are not the only source of violence.
The United Baloch Army claimed responsibility for a blast in Quetta's market earlier in the day. It killed 11 people and injured more than 40, mostly vegetable sellers and secondhand clothes dealers, police officer Zubair Mehmood said. A child was also killed.
The group is one of several fighting for independence for Balochistan, an arid, impoverished region with substantial gas, copper and gold reserves, which constitutes just under half of Pakistan's territory and is home to about 8 million of the country's population of 180 million.
SWAT BOMBING
In another incident Thursday, 21 were killed and more than 60 injured in a bombing when people gathered to hear a religious leader speak in Mingora, the largest city in the northwestern province of Swat, police and officials at the Saidu Sharif hospital said.
"The death toll may rise as some of the injured are in critical condition and we are receiving more and more injured people," said Dr. Niaz Mohammad.
It has been more than two years since a militant attack has claimed that many lives in Swat.
The mountainous region, formerly a tourist destination, has been administered by the Pakistani army since their 2009 offensive drove out Taliban militants who had taken control.
But Talibans retain the ability to attack in Swat and shot schoolgirl campaigner Malala Yousufzai in Mingora last October.
A Taliban spokesman said they were not responsible for Thursday's bombing.