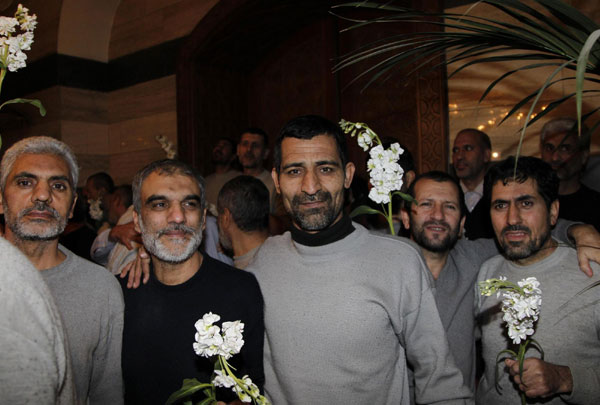 Iranians released by Syrian rebels arrive at a hotel in Damascus Jan 9, 2013. Forty eight Iranians released by Syrian rebels in exchange for the release of more than 2,000 civilian prisoners held by the Syrian government arrived at the Sheraton hotel in Central Damascus on Wednesday, a Reuters witness said. The men were accompanied by the Iranian ambassador to Syria and arrived in six small buses, looking tired but in good health.[Photo/Agencies]
DAMASCUS - Some 48 kidnapped Iranians were released Wednesday as part of a prisoner swap between rebels and the Syrian government under the mediation of several regional countries.
The released Iranians were abducted by Syrian militants in the capital of Damascus in August 2012. Iran claimed them to be pilgrims, while the Syrian rebels alleged that they were Iranian military officials in Syria.
The 48 Iranians received a very warm greeting at Damascus' five-star Sheraton Hotel on Wednesday evening with the presence of Iran 's ambassador to Syria, Mohammad Riza Shibani, who said that the swap "has gone through a very long phase of efforts" exerted by many officials, regional agencies as well as humanitarian organizations.
As many as 2,130 prisoners, including two Turkish nationals, held by the Syrian government were involved in the swap deal. However, details surrounding the prisoners are still murky, as some say they were civilian activists while others say those were rebels.
Izzat Shahin, international relations and diplomacy coordinator of IHH humanitarian foundation in Turkey, which helped broker the deal, said the main negotiators in the swap were his organization, Turkey, Iran, Qatar and the Syrian authorities.
"Without doubt the Syrian authorities helped a lot during the negotiations," he said.
Targeting Shiite people in Syria has become increasingly common as the country's majority Sunni are pitting against the minority ruling elite, the Alawites, an offshoot of Shiite Islam.
The rebels in Syria are still holding nine Lebanese Shiite pilgrims in the northern province of Aleppo as mediations are underway to secure their release.