SAN FRANCISCO - Apple is working on a less-expensive iPhone that may debut later this year, media reports said on Tuesday.
While Apple has explored the lower-end of its flagship device for years, the plan is progressing and the less expensive version of iPhone could be launched later this year, The Wall Street Journal reported.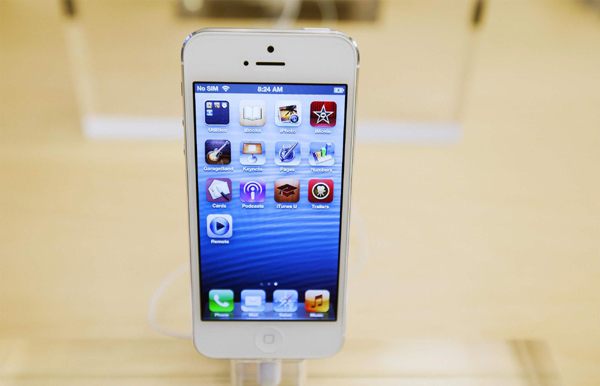 An Apple iPhone 5 phone is displayed in the Apple Store on 5th Avenue in New York in this Sept 21, 2012 file photo. [Photo/Agencies]
Instead of the aluminum shell of iPhone 5, the cheaper model may resemble the standard iPhone with a less-expensive body made of polycarbonate plastic, while other parts remain the same, it said.
Gene Munster, an analyst with investment bank Piper Jaffray, told investors last month that Apple would release a cheaper iPhone for markets.
He told The Wall Street Journal on Tuesday that a less expensive iPhone won't hurt Apple's overall profit margin if it attracts buyers who haven't bought any iPhones.
Also on Tuesday, Digitimes, a daily newspaper on tech industry based in China's Taiwan, citing sources in Apple's supply chain, reported that Apple is working on an iPhone for China and emerging markets and could launch the device in the second half of 2013.
The reports of a more affordable iPhone are not new as iPhone's lower cost rivals powered by Google's Android system have been gaining smartphone market share.
According to data from market research firm IDC, in terms of worldwide smartphone shipments, Apple's market share slipped to 14.6 percent in the third quarter of 2012, while Samsung Electronics kept its growing momentum with a share of 31.3 percent during the same period of time.
As early as in February 2011, Bloomberg reported that Apple was working on a lower-end iPhone that may "widen the iPhone's appeal and keep it from losing further ground to Android devices".
The Wall Street Journal reported that the lower-end iPhone could be available to carriers at about half the price of the mainstream iPhones.