GENEVA - The World Food Program (WFP) said on Tuesday that around 2.5 million people in Syria are in need of food assistance but only 1.5 million can receive supplies from the agency.
The agency's main partner, the Red Crescent, is overstretched and has no more capacity to expand further, according to WFP spokeswoman Elisabeth Byears.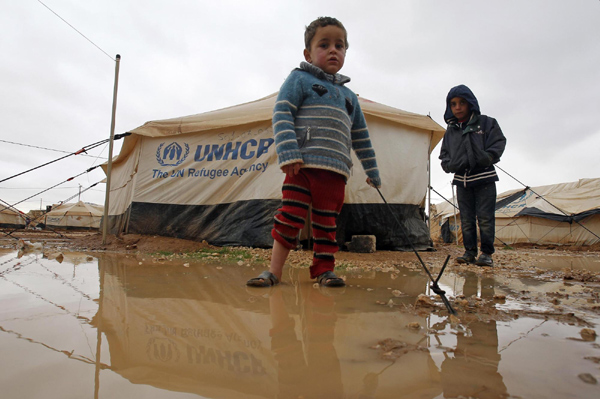 A Syrian refugee boy stands outside his parents' tent after heavy rain at the Al-Zaatari refugee camp in the Jordanian city of Mafraq, near the border with Syria, Jan 8, 2013. [Photo/Agencies]
She said WFP food reaches both government and opposition-controlled areas, but there are some areas affected by heavy fighting that no one has been able to reach.
To feed those 1.5 million people, of which 85 percent are internally displaced persons (IDPs), WFP requires 15,000 metric tons of food each month for over $22 million dollars.
There are reports of shortages of bread, wheat flour and cooking gas caused by deteriorating security situation in the country, Byears said.
WFP is making arrangements to import fuel into Syria for humanitarian use to resolve the impact of a significant fuel shortage, which has been affecting its ability to move food on time.
The UN logistics agency still has a 136-million-dollar fund gap to continue feeding the 1.5 million beneficiaries until June 2013.