NEW DELHI - Five men accused of raping and murdering an Indian student were read the charges in a near-empty courtroom on Monday after the judge cleared out lawyers for bickering over whether the men deserved a defence.
The 23-year-old physiotherapy student died two weeks after being gang-raped and beaten on a moving bus in New Delhi, then thrown bleeding onto the street. Protests followed, along with a fierce public debate over police failure to stem rampant violence against women.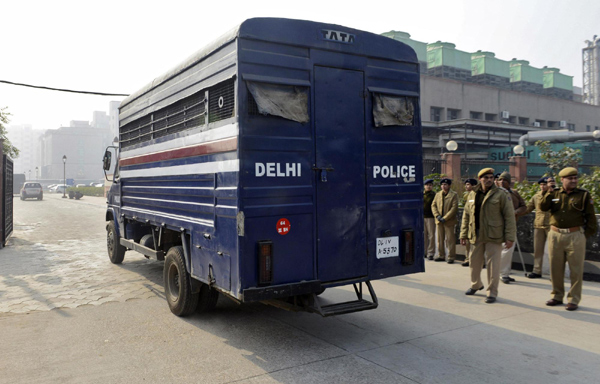 A police van carrying five men accused of the gang rape and murder of an Indian student arrives at a court in New Delhi Jan 7, 2013. [Photo/Agencies]
With popular anger simmering against the five men and a teenager accused in the case, most lawyers in the district where the trial will be held refuse to represent them.
Before the men arrived for a pre-trial hearing on Monday, heckling broke out in a chamber packed with jostling lawyers, journalists and members of the public after two of the lawyers, Manohar Lal Sharma and V. K. Anand, offered to defend the men.
"We are living in a modern society," declared Lal Sharma, defending his decision. "We all are educated. Every accused, including those in brutal offences like this, has the legal right ... to defend themselves."
One woman lawyer prodded V. K. Anand in the chest, saying: "I'll see how you can represent the accused."
Unable to restore order, presiding magistrate Namrita Aggarwal ordered everyone to leave except the prosecution, and set police to guard the entrance.
She said the trial would now be held behind closed doors because of the sensitivity of the case.
FACES COVERED
Reuters video images showed the men stepping out of a blue police van that brought them from Tihar jail and walking, their faces covered, through a metal detector into the South Delhi court building.
The court was across the street from the cinema where the victim watched a film before she was attacked on her way home.
Aggarwal gave the men copies of the charges, which include murder, rape and abduction, a prosecutor in the case told Reuters.
Police have conducted extensive interrogations and say they have recorded confessions, even though the men have no lawyers.