WASHINGTON - US Senate Majority Leader Harry Reid on Thursday urged Congress Republicans to come up with a plan that both chambers of the legislature could pass, so as to avert the impending "fiscal cliff".
Going over the "fiscal cliff" seemed like "where we're headed", the top Democratic senator on Thursday said in a Senate floor speech.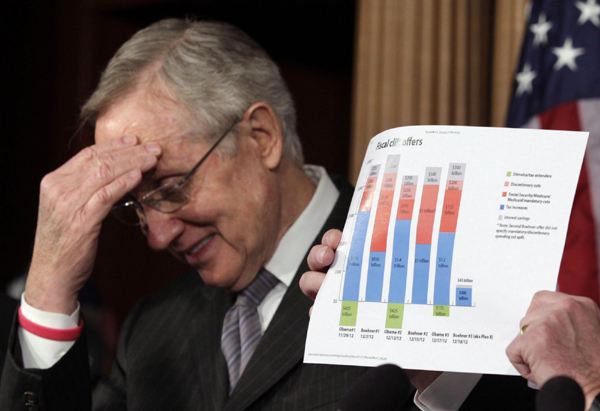 Senate Majority Leader Harry Reid (D-NV) reacts as Sen. Charles Schumer (D-NY) (not pictured) shows a "fiscal cliff" chart during a news conference on Capitol Hill in Washington, in this Dec 20, 2012 file photo. [Photo/Agencies]
Unless the US Congress acts by the end of the year, a combination of tax increases and sweeping spending cuts totaling about $600 billion will kick in next January, which could drive the country's economy back into recession.
However, House Speaker John Boehner, the top Republican lawmaker in the lower chamber, on Wednesday called on the Democrats-controlled Senate to act first to resolve the "fiscal cliff" deadlock.
With the Jan 1 deadline around the corner, the chance for Democrats and Republicans to ink a big deal on government debt reduction was slim, according to some political analysts here.
President Barack Obama on Wednesday made phone calls to congressional leaders including Reid and Boehner to get an update on the ongoing "fiscal cliff" negotiations, the White House said on Thursday.