WASHINGTON - US President Barack Obama and House Speaker John Boehner met again at the White House on Monday, raising hopes that they would inch closer toward a deal to avoid the potentially devastating "fiscal cliff".
The 45-minute meeting was a sign of acceleration in negotiations that seek to avert the year-end spending cuts and tax increases. They have periodically met face-to-face and talked over the phone recently as aides of both sides worked to piece together an agreement.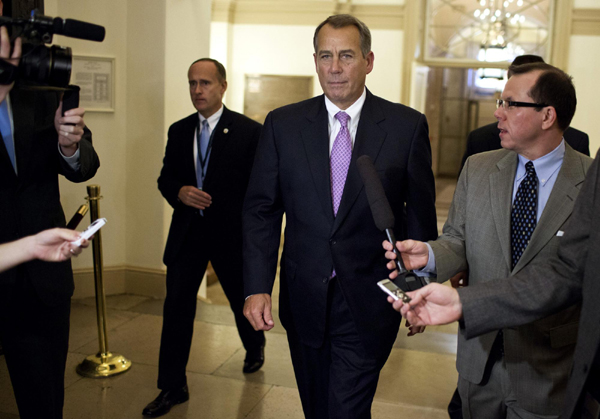 US Speaker of the House of Representatives John Boehner (R-OH) walks to his office in the US Capitol after meeting with US President Barack Obama at the White House in Washington Dec 17, 2012. Obama and Boehner met at White House for about 45 minutes on Monday, but there was no word of any progress in their bid to avert the looming "fiscal cliff", an aide said. [Photo/Agencies]
"The lines of communication remain open, but there is no agreement, nor is one imminent," said Boehner's spokesman, Michael Steel.
"The President's proposal is the only proposal that we have seen that achieves the balance that is so necessary," the White House spokesman Jay Carney said at a news conference, but he refused to comment on specifics.
To break the budget impasse, Boehner offered Obama a plan over the weekend, which includes letting tax rates rise for those who make over $1 million a year, contingent upon entitlement spending cuts.
Boehner's latest proposal calls for $1 trillion in new tax revenue, more than the $800 billion he initially offered.
Obama has insisted on allowing the Bush-era tax cuts to expire for those earning over $250,000 a year. As a gesture to narrow the gap between two sides, he scaled back his initial demand on tax revenue increase from $1.6 trillion to $1.4 trillion last week and signaled willingness to reform entitlement programs.
"Any potential agreement would not only have to align with the president's principles, it would require tough choices by both sides," Carney said.
Economists predict that the total cost of tax hikes and spending cuts, estimated at more than $600 billion and set to take effect at the beginning of next year unless the White House and the US Congress reach a deal in time, would tip the country into a recession.
Related:
Obama, Boehner meet over 'fiscal cliff'
US stocks open higher on "fiscal cliff" hopes