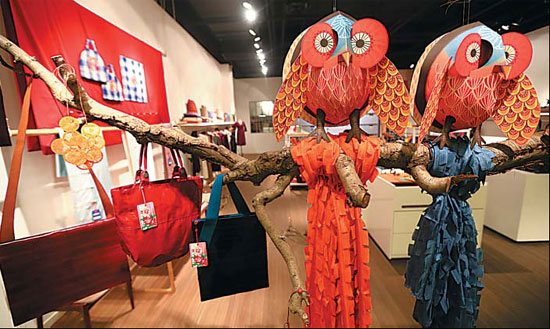 Shanghai Trio's Beijing store makes customers feel like they
When Virginie Fournier first saw Chinese silk brought to Lyon, France, by her grandfather decades ago, she could not help but marvel. Now, after more than a decade spent living in China, the founder and creative director of fashion label Shanghai Trio is still inspired.
"When I'm in China, I see beautiful things everywhere," she says.
Be it delicate silk or rough work jackets, Fournier knows how to resurrect traditional Chinese materials and crafts with a modern twist.
Displays in the Beijing store - there are two more stores in Shanghai - include a children's silk quilted jacket, a hand-woven cotton dress and 1980s-style printed cotton sheets, which give the place the feel of a museum of vanishing Chinese handicrafts.
Apart from clothes and fashion accessories, the chain also sells houseware with prices ranging from 80 yuan (US$12.80) to tens of thousands.
"I really want to create a brand that is born in Shanghai, but it shouldn't be ethnic," Fournier says. "It should be modern."
But she's eager to "find the roots of China and use them". While Fournier stays faithful to traditions, she is not afraid to employ new elements, and China's bustling streets have been a constant inspiration for her.
Three years ago Fournier was using the neon orange that is now fashionable, inspired by people she saw on the street.
"It can be workers or travellers, immigrants or fashionable people. Why not mix it with silk and leather?"
Shanghai Trio's orange raincoat has been one of its best sellers.
The building industry has also been a source of ideas for Fournier. With modifications, an electrician's bag turns into a chic haversack.
Born and raised in Lyon, a city renowned for its beautiful fabrics, Fournier's keen eyes and refined tastes are innate. She also owes her fashion sense to her upbringing.
"This is really about education. It's not something I developed by myself. I was brought up by people who loved seeing the arts," she says.
"It doesn't have to be expensive or luxurious, but something nice. The childhood and teenage years are really important, because they feed your adult life."
Trained as a historian, Fournier had no clear idea what she was going to do when she first came to Shanghai with her husband in 1995.
All she knew was, "I wished to find beautiful things. For me, China was like Ali Baba's cave. It was certain that I could find beautiful things, but it was hard to do".
Fournier began to look at Chinese craftsmanship and materials such as silk, embroidery and bamboo. Then she began to search for suppliers. She opened her first store in Xintiandi, a trendy shopping area in Shanghai, in 1998, when independent brands were scarce and there was little demand for them.
"People were used to big investments. People were like, 'Who are you, where do you come from?' It was a huge challenge to order raw materials of good quality and small quantity. We felt like we were small," she says.
"Now, we beg less and we have to fight against ourselves."
For Fournier, Shanghai Trio is more than a fashion brand. It is also a way to promote the culture of a country where she lived for more than a decade, found her career and had two children.
Fournier moved back to Paris with her family in 2005 and then on to London in 2007. Each city has inspired her in a different way.
"Beijing and London are similar because people really try, they can be crazy. Last year here I saw girls in Beijing wearing very funny shoes. But in Shanghai you don't see this kind of thing. They are elegant and chic. It's the same in Paris," she says.
"In London, you don't see two people looking the same. When I arrived in London, I said, 'Wow, this is good,' because they know how to mix everything: the old, the new, and the colours. They are not afraid."
Now Fournier visits China every three months and manages her Chinese team via Skype.
Although she no longer lives here, she still finds ways to experience the country's culture.
"It's a paradox. I find out more about Chinese history and culture outside China than inside sometimes because of the museums," she says.
"You see a lot of collections in the British Museum that inspire you. You can know things but you cannot feel them. While in China, you feel things, which is a big difference."