SEOUL - Polls opened Wednesday in the Republic of Korea's closely contested presidential election, which pits the daughter of a military strongman against a former human rights lawyer once jailed for protesting his rule.
Voting began at 6:00 am local time at 13,542 polling stations nationwide, with more than 40.4 million eligible voters poised to cast their ballots. Polls will close at 6:00 pm and the result is expected by midnight.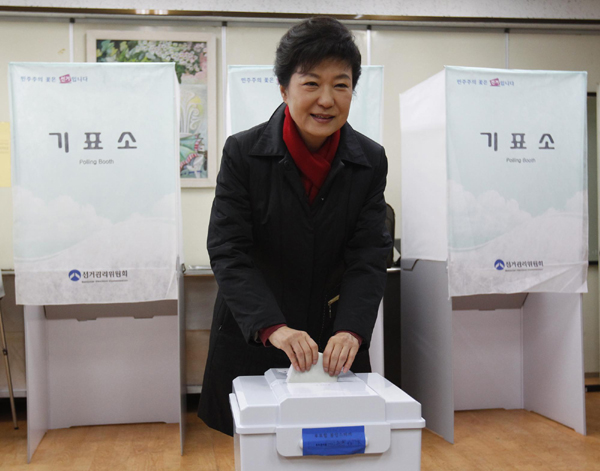 Park Geun-hye, ROK's presidential candidate of the conservative ruling Saenuri Party, casts her ballot at a polling station in Seoul, Dec 19, 2012. [Photo/Xinhua]
Final opinion surveys released last week showed Park Geun-hye of the conservative ruling Saenuri Party held a slight lead over her liberal rival Moon Jae-in of the center-left main opposition Democratic United Party.
Still, the gap in most polls was within the margin of error, and analysts say the contest is too close to call and its outcome will ultimately depend on voter turnout.
As of 11 am, voter turnout was estimated at 26.4 percent, slightly higher than what was reported at the same time during the 2007 presidential poll, according to the National Election Committee.
Park, the 60-year-old daughter of ROK's former dictator Park Chung-hee, is looking to become the first female leader of the country and extend the conservative rule for another five years.
"I will humbly wait for people's choice," Park, who has vowed to restore national unity and overcome the polarized political landscape, said after voting in Seoul.
Park, who acted as the de facto first lady to her father after her mother was assassinated, remains popular among older voters nostalgic for the rapid economic growth under the 18-year authoritarian rule.
She is an anathema, however, to former democracy activists such as Moon, who was jailed in 1975 for protesting against the late dictator.
Moon, 59, is a former human rights lawyer who also served as chief of staff to late President Roh Moo-hyun. He says the election is a contest between vested interests and aspirations for new politics.
"I did my very best," Moon said after casting his vote in the southern port city of Busan, a traditional conservative stronghold where he earned his first parliamentary seat earlier this year that boosted his presidential prospects.
He is the sole candidate running on the liberal ticket after independent Ahn Cheol-soo and leftist candidate Lee Jung-hee bowed out of the race to throw their support behind him.
Higher voter turnout is believed to be a boon for Moon, as it usually means young voters who traditionally favor a liberal candidate turn out in high numbers.
Incumbent President Lee Myung-bak, whose single five-year term ends early next year, is constitutionally barred from seeking re-election.