UNITED NATIONS - A senior UN official in Iraq on Monday voiced his strong condemnation of a series of attacks that occurred in Iraq's northern city of Kirkuk on Sunday night, killing at least 47 people and wounding over 110 others, UN spokesman Martin Nesirky told reporters.
"Martin Kobler, the (UN) secretary-general's special representative for Iraq, strongly condemned the attacks that have claimed dozens of lives across Iraq since yesterday," Nesirky said at a daily news briefing. "Many of those attacks targeted civilians."
"Mr Kobler said that the attacks in the disputed internal areas further aggravate the tensions there," the spokesman said. "He called on all parties to engage in inclusive dialogue and to urgently work on defusing the situation to prevent an escalation. The United Nations stands ready to help if requested to do so."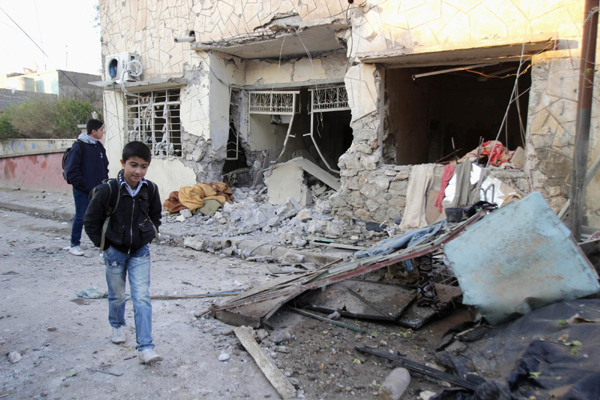 Students inspect a damaged house after a bomb attack in Kirkuk, 250 km (155 miles) north of Baghdad Dec 17, 2012. [Photo/Agencies]
The attacks, which hit more than a dozen different Iraqi cities and towns, came on the eve of the first anniversary of the US military pullout from the Middle East country.
Among the attacks, at least 11 explosions jolted different parts of the Iraqi city of Kirkuk, including a Shiite mosque and a local radio station, reports said.
Kirkuk, some 250 km north of the Iraqi capital Baghdad, is a major oil hub in north Iraq. It is also part of the disputed territory between the central government and the semi-autonomous region of Kurdistan.