BEIJING - Typhoon Bopha will bring gales to the South China Sea from early Wednesday to late Thursday, the National Meteorological Center forecast on Tuesday.
Bopha, which was near the Philippines at 5 pm on Tuesday, is moving northwest at a speed of 25 kilometers per hour with weakening strength, according to the center.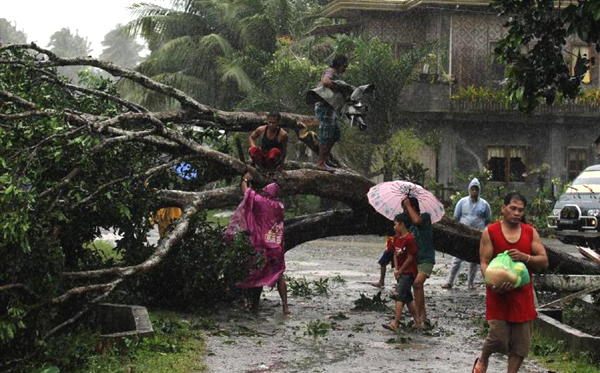 Residents cut a tree that blocks a road while super typhoon Bopha hits the southern Philippine city of Tagum, Dec 4, 2012. Thousands of people have fled from their homes as strong typhoon Bopha made a landfall at dawn Tuesday, forcing Filipino officials to suspend sea travel in high-risk areas in the South. [Photo/Xinhua]
The typhoon is expected to arrive at the South China Sea early Wednesday and bring strong winds of around 40 meters per second.
Also, a cold front from the north will bring gales in the Bohai Sea, the Yellow Sea and the East China Sea during the next two days.
The center advised vessels working in these waters to return to ports and maritime authorities to prepare for Bopha.