BRUSSELS - NATO foreign ministers on Tuesday approved Turkey's request for Patriot missiles to defend it from potential attack from neighboring Syria.
"In response to Turkey's request, NATO has decided to augment Turkey's air defense capabilities in order to defend the population and territory of Turkey and contribute to the de-escalation of the crisis along the alliance's border," foreign ministers from 28 NATO countries said in a statement after one-day meeting.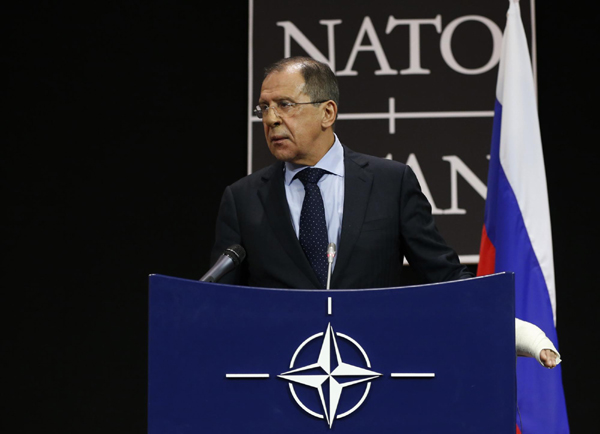 Russian Foreign Minister Sergey Lavrov holds a news conference at NATO headquarters after a meeting with NATO foreign ministers in Brussels Dec 4, 2012. [Photo/Agencies]
"We welcome the intention of Germany, the Netherlands and the United States to provide Patriot missile batteries, subject to their respective national procedures...Any deployment will be defensive only. It will in no way support a no-fly zone or any offensive operation," it said.
According to the statement, the Patriots would be under the operational command of the Supreme Allied Commander Europe (SACEUR), which serves as one of NATO's two strategic commanders.
"We call for an end to violence in Syria, which represents a serious threat to stability and security in the region. We fully support the efforts of the international community to find a peaceful solution," the statement concluded.
At his press conference, NATO Secretary General Anders Fogh Rasmussen said that it was a "political decision" and the ministers did not discuss any technical issues, such as how many Patriot missile batteries would be deployed and for how long.
"We have no intention to intervene militarily. There is no change in our position, but of course we will do what it takes to protect our ally Turkey," Rasmussen said.
Rasmussen said earlier Tuesday that actual deployment of the Patriots would take place "within weeks."
The Unites States, Germany and the Netherlands have the advanced PAC-3 model Patriot missile that Turkey requested last months to deploy because of its fears of a spillover from the conflict in Syria. During the first Gulf War, the Patriots was used to defend against the Iraqi Scud missile threat.
The Patriot system components provide "a reliable and lethal capability to defeat advanced threats, including aircraft, tactical ballistic missiles, cruise missiles and UAVs," the US manufacturer Raytheon said on its official website.
Before making the decision, NATO ministers met with their Russian counterpart Sergey Lavrov in a bid to reassure Russia that the Patriots would not be used to implement a no-fly zone in Syria, but was aimed at defending Turkey from Syrian missiles.
However, Lavrov repeated his concerns over the deployment and warned the militarization of the Syrian conflict.
"This stockpiling of armaments is always creating an additional risk that these armaments will be used ... We have purely political concern that the conflict is increasingly militarized," he said.
Lavrov said the threats against Turkey should not be overstated and Russia had proposed to set up a communication line in the real time between Turkey and Syria to avoid any escalation.
"Syria is not Libya ... We believe that we need to carry out political and diplomatic intervention and pursue negotiations between all the parties that are engaged in bloodshed there," he said.