WASHINGTON - The White House dismissed a "fiscal cliff" proposal from congressional Republicans on Monday that included tax reforms and spending cuts, saying it did not meet President Barack Obama's pledge to raise taxes on the wealthiest Americans.
"The Republican letter released today does not meet the test of balance. In fact, it actually promises to lower rates for the wealthy and sticks the middle class with the bill," White House Communications Director Dan Pfeiffer said in a statement.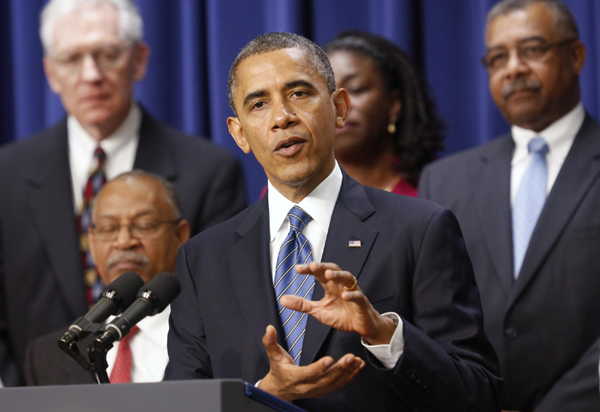 US President Barack Obama delivers remarks at the White House in Washingt, in this Nov 28, 2012 file photo. [Photo/Agencies]
He was referring to a proposal laid out in a letter by House of Representatives Speaker John Boehner and other Republicans.
"Their plan includes nothing new and provides no details on which deductions they would eliminate, which loopholes they will close or which Medicare savings they would achieve," Pfeiffer said.
"Independent analysts who have looked at plans like this one have concluded that middle-class taxes will have to go up to pay for lower rates for millionaires and billionaires."
Boehner proposed overhauling the US tax code to raise $800 billion in new revenue over ten years. Obama's opening bid, outlined on Capitol Hill on Friday, seeks $1.6 trillion in new revenue by allowing the expiry of tax cuts enacted under President George W. Bush for the top two tax brackets.  
After winning re-election last month with a campaign pledge to raise tax rates for the wealthiest Americans, Obama will not agree to extend the Bush-era tax cuts for the richest 2 percent of US households, senior administration officials said.
The officials said the White House would likely continue to discuss ways to avert the "fiscal cliff" in phone calls with their negotiating counterparts in Congress.
Some conversations might take place at the White House's annual holiday party on Monday night, they said.
But after the Republicans made an offer that runs counter to Obama' main demand for higher tax rates, the officials said they believe it is now up to congressional Republicans to take steps to advance negotiations.
Once Republicans agree that tax rates must rise, achieving a broader deal to reduce the budget deficit will be much easier, the officials said.