Negotiators barely moved closer to reaching any agreements to slow the world's warming during their first week of talks about global climate change in Doha, capital of Qatar.
With the arrival of ministers from around the world, including Connie Hedegaard, EU commissioner for climate change; Todd Stern, US special envoy on climate change; and Xie Zhenhua, China's top climate change official, many expect to see more happen this coming week.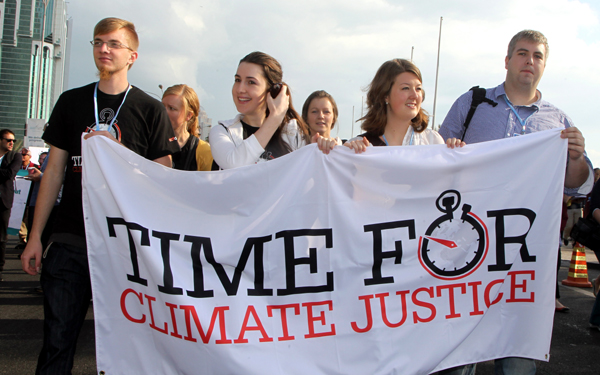 Activists carry placards during a rally in Doha on Saturday to demand urgent action addressing climate change as the United Nations Convention on Climate Change continues in the Qatari capital. The chances of hitting the UN's global warming target are diminishing, but the goal can still be met if greenhouse gas emissions fall by 15 percent by 2020, scientists said. [Photo/Agencies]
"There were no clear solutions found to many of these issues and some of the most difficult tasks were left to the second week," Su Wei, China's top climate change negotiator and deputy head of the Chinese delegation, told reporters on Saturday.
Few steps have been taken toward establishing a rectifiable, legally binding, second commitment period under the Kyoto Protocol, which many nations regard as the most important goal of the Doha meetings.
Among the questions are whether the second commitment period should last for five or eight years or how to avoid a gap between the first and second commitment periods.
Masahiko Horie, Japanese ambassador for global environmental affairs, told reporters in Doha that the Japanese government hasn't made a mid-term or 2020 target for cutting emissions.
"In the past three years, we have honored the first commitment of the Kyoto Protocol," he said. "Beyond 2013 ... the Japanese business federation will continue its voluntary efforts to reduce carbon dioxide emissions."
After being struck by a nuclear disaster last year, Japan decided to taper off its reliance on nuclear energy, a choice that will have an effect on Japan's goal to reduce its emissions of greenhouse gas Su said.
"Japan has also decided not to participate in the second commitment period of the Kyoto Protocol," he said. "That doesn't mean Japan will no longer have an obligation to reduce its emissions and provide financial and technical support to developing countries."
Brazil, India, China and South Africa have called on the European Union to do more to deal with climate change. After the first week of the Doha talks, Su said it seems the EU is unlikely to raise its existing goal of reducing its greenhouse emissions by 20 percent by 2020, even though it has already achieved 17.6 percent.
Also, the G77 — a group of developing economies within the United Nations — and China have taken a stance that developed countries that are not parties to the Kyoto Protocol or do not participate in its second commitment period should not benefit from the protocol's clean development mechanism, which provides credits that can be traded in an emission reduction system. The mechanism's rules and procedures are among the items to be reviewed in Doha.
Also, the talks have produced no substantial outcome on other important matters such as intellectual property rights issues that are related to green technology and ways to ensure developed countries' financing commitments are kept.
Developing countries have submitted a proposal for a mid-term financing target for 2015, which is meant to ensure that the $100 billion a year in climate financing that developed countries have pledged to provide by 2020 in climate financing is guaranteed.
Even so, developed countries' attitudes toward the proposed finance target of $60 billion for 2015 remain unknown, and many people worry the long-term financing pledge is hollow.
"Climate financing has become a vital issue that will determine the success or failure of the Doha conference," said a delegate from the island country of Barbados during a session on financing on Friday.
If developed countries fail to respond to the most urgent needs of developing countries, those at the conference will find it more difficult to make progress on long-term issues, he said.
Yang Fuqiang, senior adviser on energy, environment and climate change at the Natural Resources Defense Council, said developing countries should make a strong claim to the financial support of developed countries.
"The accumulated greenhouse gas emissions in the atmosphere are causing global warming, resulting in frequent extreme weather, destroying ecosystems and bringing great losses and damage," he said. "Why shouldn't developing countries be compensated?"
A recent World Bank report released in November warned that, if the global community fails to act on climate change, world temperatures will be 4 C hotter on average by the end of the century.
During the first week of the Doha talks, the United States, Canada and New Zealand were each recipients of the "Fossil of the Day" award — which NGOs give out every day to countries they deem to have performed badly in the climate change negotiations.
New Zealand and the US were also blamed for not abiding by common accounting rules, which many say are essential in attempts to recognize whether developed countries outside the second commitment period of the protocol have comparable mitigation targets.
The US continues to avoid negotiations about common accounting rules for demonstrating mitigation progress, even though it boasts that its domestic rules are better than other countries, said Kyle Ash, senior legislative representative of Greenpeace.
Contact the writers at lanlan@chinadaily.com.cn and wuwencong@chinadaily.com.cn