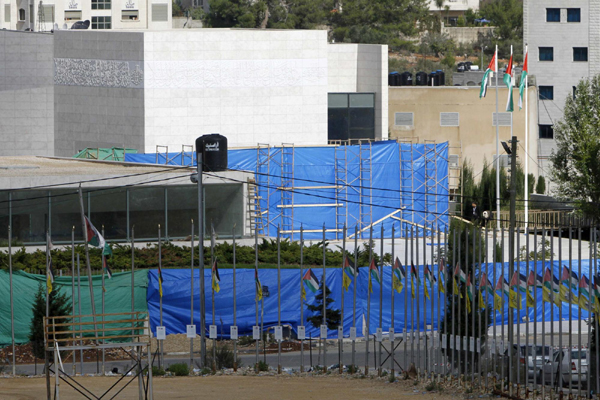 File photo of plastic sheets cover the mausoleum of late Palestinian leader Yasser Arafat in the West Bank city of Ramallah Nov 13, 2012, ahead of his exhumation. [Photo/Agencies]
RAMALLAH - The excavation has started in the tomb of late Palestinian leader Yasser Arafat in preparation for the exhumation of his remains, Palestinian sources said Saturday.
French and Swiss experts are overseeing the work in Arafat's grave in the West Bank city of Ramallah. The investigation aims at verifying if Arafat's death at a French hospital near Paris in 2004 was due to poison.
Given the complicated design of the tomb, the excavation would last a few days before the experts are able to take samples from Arafat's remains, the sources said.
The investigators include French prosecutors, as Arafat's widow, Suha, filed a civil complaint in a French court earlier this year asking for investigation into her husband's death.
The controversy over Arafat's death of an undiagnosed disease renewed when the pan-Arab Al-Jazeera news network aired a documentary in July saying that the Palestinian leader was poisoned with radioactive polonium-210. The Qatari television tested some of Arafat's personal belongings in a Swiss lab, which found significant traces of polonium on his toothbrush and underwear.