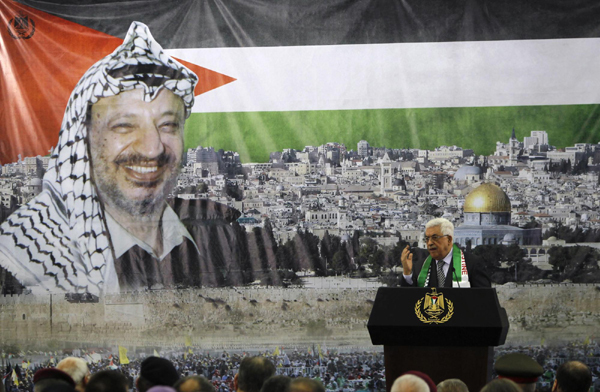 Palestinian President Mahmoud Abbas stands in front of a banner with a picture of late Palestinian leader Yasser Arafat during a ceremony marking the eighth anniversary of his death in the West Bank city of Ramallah, in this Nov 11, 2012 file photo. [Photo/Agencies]
RAMALLAH - Well-informed Palestinian sources revealed that arrangements were launched on Monday to open the grave of late Palestinian leader Yasser Arafat and take samples of his remains for an investigation into the reasons behind his death.
The sources, which spoke in conditions of anonymity, told Xinhua that the Palestinian National Authority (PNA) closed the area of Arafat's tomb at al-Muqata'a, the Palestinian president headquarters in the city of Ramallah.
The sources added that Arafat's grave has been completely covered with colorful plastic and that people are prohibited from approaching the area.
Official sources at Palestinian President Mahmoud Abbas' office told Xinhua that Abbas ordered on Monday to start opening the grave on November 15, adding that the process, including taking samples of Arafat's remains, will take several days.
"What is going on around the grave is just technical and geometrical arrangements to prepare for opening the grave for the Russian, Swiss and French experts to take the samples of the remains," said the sources.
The sources added that the PNA has coordinated with the Swiss and French teams as well as the Russian government, and an Egyptian group of doctors, who treated Arafat when he was sick, is set to join the process.
Tawfeeq Tirawi, chairman of the Palestinian committee on probing Arafat's death circumstances, told Xinhua that he has nothing to comment. However, he said "opening the grave and taking the samples will happen very soon".
On Sunday, Abbas said during a ceremony marking the eighth anniversary of Arafat's death that full coordination is going on with French inspectors and Russian experts to open Arafat's tomb.
"I hope that the results of the investigations would show the real reason behind Arafat's death," said Abbas, adding "once any result appears, we ... will directly announce it to our people."
Meanwhile, Abdulla al-Basheer, chairman of the medical committee on probing the circumstances of Arafat's death told Xinhua that the Russian government agreed to a PNA request to send its experts to join the investigation.
Arafat died after prolonged illness in a Paris hospital in 2004. The doctors were unable to determine the cause of his death. Israel had kept him locked in his West Bank compound for about two years and had only allowed him to leave for France when he fell ill.