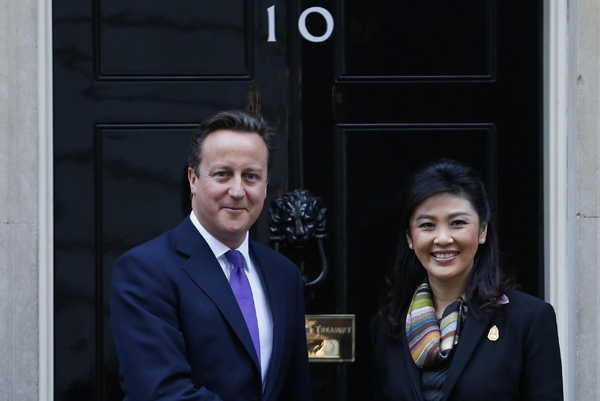 Britain's Prime Minister David Cameron greets his counterpart from Thailand, Yingluck Shinawatra (R), as she arrives for a meeting at 10 Downing Street in London, Nov 14, 2012. [Photo/Agencies]
BANGKOK - Thailand and the United Kingdom have agreed to establish a new mechanism for high-level bilateral discussions to boost cooperation in various dimensions in the future, the Thai Foreign Ministry said Thursday.
Thai Prime Minister Yingluck Shinawatra, who is on an official visit to the United Kingdom, on Wednesday held talks with her British counterpart David Cameron to exchange views on various matters of common interest and of bilateral, regional or global concern.
They agreed to intensify efforts to elevate the already excellent state of their relations to an even higher level.
Both leaders have agreed to launch "strategic dialogue" - a high-level, consultative forum to set and monitor the future direction of their bilateral cooperation in all areas.
This forum, also a concrete platform for both sides to exchange views on regional and multilateral issues, will be convened on a regular basis between high-ranking officials of the Thai Foreign Ministry and the British Foreign and Commonwealth Office.
The two prime ministers also welcomed the increasing two-way trade and investment, highlighted by the long-established presence and active role of the British private sector in Thailand which has made Britain Thailand's second largest trading partner.
The two leaders also agreed to promote further people-to-people contacts between the two countries. To facilitate a greater volume of exchanges, the British premier announced that from Dec 1, student applicants will be able to access the priority visa service, which is already available to Thai business people and general visitors.