BRUSSELS - German Chancellor Angela Merkel on Wednesday called upon all European leaders to agree on an ambitious roadmap for renewing Europe's economic and monetary union (EMU).
"Trust in the European Union (EU) needs to be re-won," and "It is my goal that we win together," Merkel told the European Parliament in Brussels in a speech, calling on EU leaders to agree on an "ambitious roadmap" at an upcoming mid-December EU summit.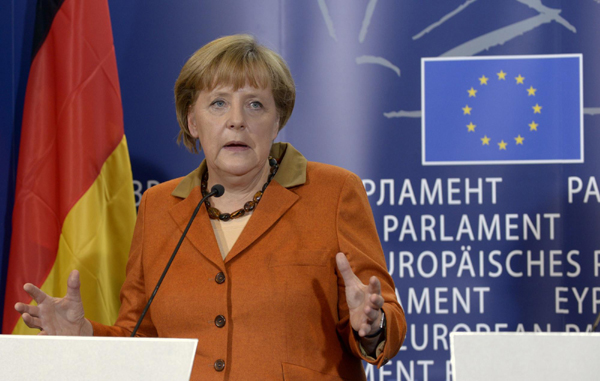 Germany's Chancellor Angela Merkel holds a news conference after addressing the political groups at the European Parliament in Brussels, Nov 7, 2012. [Photo/Agencies]
She said the roadmap should consist of such measures as "harmonizing financial market regulation, closer fiscal and economic policy integration, and steps to ensure greater democratic legitimacy for decision-making at the European level".
While stressing that the plan should be implemented over the coming two to three years, Merkel also advocated a move to grant European institutions new powers to intervene if governments of member states violated EU budgetary rules.
Responding to a British member of the European Parliament who said it was now time for "a simple amicable divorce" between Britain and the EU, the German leader said, "I want to have a strong UK in the EU, let me make that absolutely clear."
She made the remarks hours before traveling to London for tough talks with British Prime Minister David Cameron over the hotly contested EU 2014-2020 budget. Cameron had threatened to block the budget deal later this month due to domestic opposition.