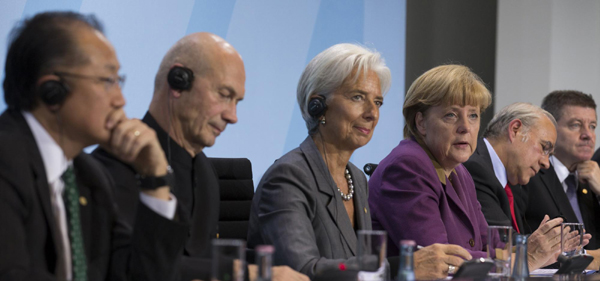 World Bank President Jim Yong Kim, World Trade Organization (WTO) Director-General Pascal Lamy, International Monetary Fund (IMF) Managing Director Christine Lagarde, German Chancellor Angela Merkel, Organisation for Economic Co-operation and Development (OECD) Secretary General Angel Gurria and International Labor Organisation (ILO) Director general Guy Ryder (L-R) attend a news conference after talks at the Chancellery in Berlin, Oct 30, 2012. [Photo/Agencies]
BERLIN - German Chancellor Angela Merkel and leaders of five global financial organizations on Tuesday called for fiscal consolidation and structural reforms to restore global economic growth.
"The recovery of the global economy is on a fragile track and prospects still remain uncertain," Merkel said along with heads of the OCED, WTO, ILO, IMF and World Bank in a joint statement after their meeting in Berlin.
According to IMF forecasts, world economy is now facing "considerable downside risks," with a growth rate of 3.3 percent in 2012 and 3.6 percent in 2013.
"Because of modest growth prospects and considerable uncertainty, financial markets, investor and household confidence has not yet returned to pre-crisis levels," the leaders said.
They expressed their concerns that "debt levels in most industrialized countries are still unsustainably high," while "unemployment has reached a new record high in many countries".
To restore confidence and to improve growth and employment prospects, decisive action has to be taken to ensure fiscal consolidation at an appropriate pace coupled with structural reforms, the statement said.
The leaders welcomed "the efforts several eurozone countries are undertaking to enhance their external competitiveness and to consolidate their budgets", but also called for "further efforts, especially with respect to youth employment generation, structural reform and effective social protection systems" in the region.
They urged the eurozone to work on the future of the European monetary union "by implementing comprehensive reforms designed to enhance growth and competitiveness", and called on the United States to embark on a credible fiscal consolidation path.
They also urged emerging economies to adjust their economic policies to "meet the challenges of pursuing a growth path that is both inclusive and sustainable".
Merkel and the visiting five leaders, including International Monetary Fund Managing Director Christine Lagarde, OECD Secretary General Angel Gurria, World Trade Organization Director General Pascal Lamy, International Labor Organization Director General Guy Ryder, and World Bank Group President Jim Yong Kim, also pledged to future cooperate in areas of innovation, education, labor market reforms, climate change, food security, as well as international trade.
"We are convinced that international trade has a major role in fostering global growth and employment," said the statement, stressing the importance "to resist adopting protectionist measures".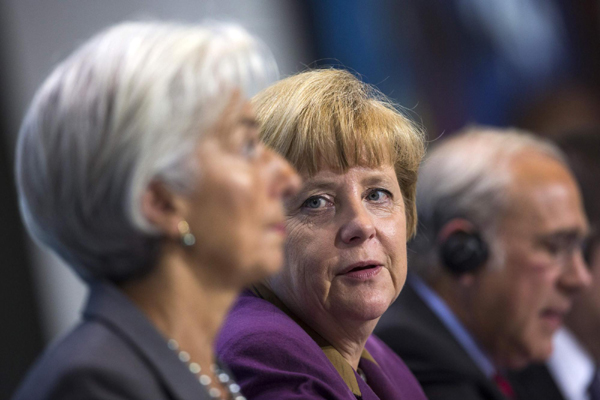 German Chancellor Angela Merkel (C) International Monetary Fund (IMF) Managing Director Christine Lagarde (L) and Organisation for Economic Co-operation and Development (OECD) Secretary General Angel Gurria attend a news conference after talks at the Chancellery in Berlin, Oct 30, 2012. [Photo/Agencies]