WASHINGTON - US Vice-President Joe Biden and Republican presidential nominee Mitt Romney on Tuesday made separate visits to Cleveland of the all-important swing state of Ohio, as Americans head to the polls to elect the country's next president.
Biden made an unannounced visit to Cleveland after casting his own ballot in Greenville, Delaware. He visited a local diner, did a meet and greet with patrons and had some lunch there, before flying to Chicago for the election night rally of the campaign.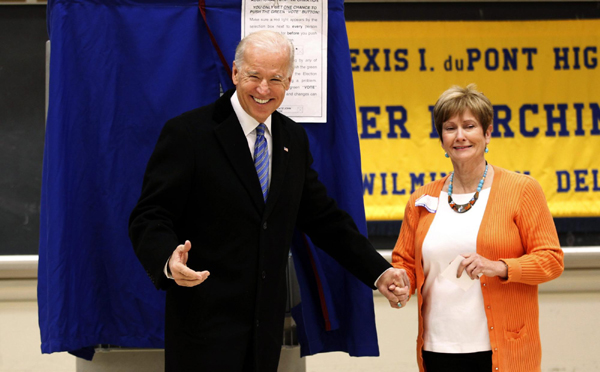 US Vice-President Joe Biden holds hands with a poll worker as he emerges from the voting booth after casting his ballot during the US presidential election in Greenville, Delaware, Nov 6, 2012. [Photo/Agencies]
Romney also flew to Cleveland after voting in Boston, Massachusetts. His running mate Paul Ryan went there to meet up with him after voting in Janesville, Wisconsin. The two visited a campaign office and had lunch together at a local restaurant.
The surprise convergence of the three candidates alluded to the importance of Ohio, a swing state with 18 electoral votes neither campaign can afford to do without. US TV networks repeatedly showed the image of the three candidates' planes - Biden's Air Force Two in the background to Romney and Ryan's two chartered jets.
Romney will then go to Pennsylvania and Ryan to Virginia, both states they aspire to win.
Voting has begun all across the United States Tuesday, and polls will close as night falls. President Barack Obama is staying put in Chicago, but he also visited a local campaign office and gave interviews.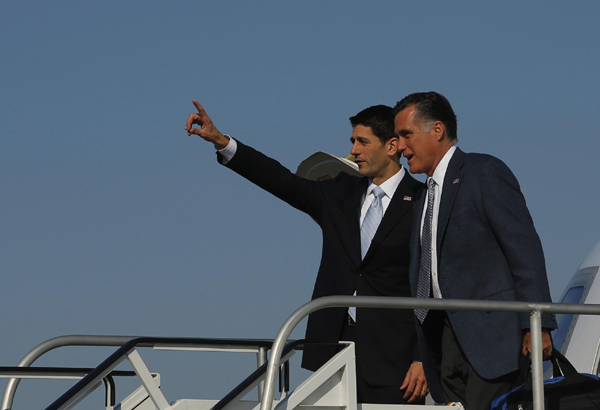 Republican presidential nominee Mitt Romney and vice-presidential nominee Paul Ryan (L) gesture from the stairs of Romney's campaign plane after they met up during the US presidential election in Cleveland, Ohio, Nov 6, 2012. [Photo/Agencies]