BOCA RATON, the United States - US President BarackObamaand his Republican rival Mitt Romney on Monday clashed over economic policies in their third and final face-to-face presidential debate.
Romney attacked Obama's economic records, saying the US economy was not getting stronger under Obama's watch and Obama has not balance the budget of the federal government in nearly four years in office.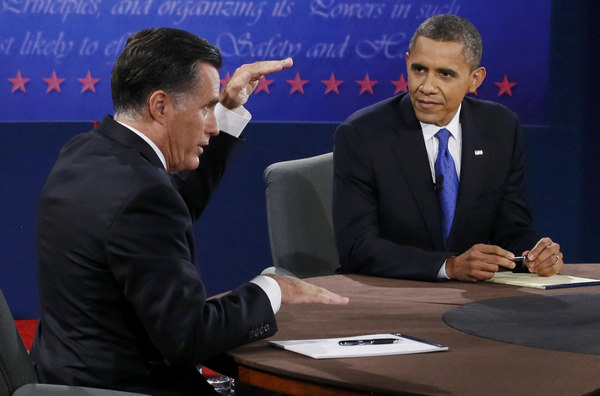 US President Barack Obama (R) listens as Republican presidential nominee Mitt Romney (L) speaks during the final US presidential debate in Boca Raton, Florida Oct 22, 2012. [Photo/Agencies]
"We need a strong economy," said Romney, adding that the mounting debt is the "biggest national security threat" for the nation.
"We have to strengthen our economy here at home. You can't have 23 million people struggling to get a job," Romney charged.
"You can't have an economy that over the last three years keeps slowing down its growth rate. You can't have kids coming out of college, half of them can't find a job today, or a job that's commensurate with their college degree. We have to get our economy going," Romney said.
"I've got a policy for the future and agenda for the future. And when it comes to our economy here at home, I know what it takes to create 12 million new jobs and rising take-home pay," Romney stressed.
"We can be a partner with China. We don't have to be an adversary in any way, shape or form. We can work with them, and we can collaborate with them, if they're willing to be responsible," Romney said.
Obama defended his economic records, saying the administration was endeavoring to bring manufacturing jobs back to the United States and to cut the nation's deficit in a balanced way.
The United States has made great progress in digging out of the hole caused by the worst financial crisis since the Great Depression in the 1930s, Obama said.
The world's largest economy should ensure key investments on education and other areas that were important to US long-term competitiveness, Obama stressed.
The United States should make efforts to develop its own economy, its own energy sectors and its own education system, Obama added.
Obama attacked Romney's tax policy, saying Romney has called for $5 trillion of tax cuts that would be paid for by closing deductions, but the math did not add up.
China was both an adversary, but also a potential partner in the international community if it was following the rules, Obama stressed.