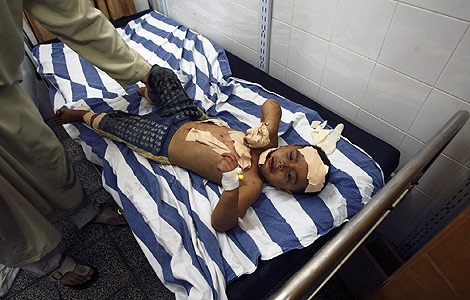 A wounded Palestinian boy lies on a hospital bed following an Israeli air strike in Rafah camp in the southern Gaza Strip October 7, 2012. [Photo/Agencies]
GAZA - A missile fired by an Israeli aircraft hit and wounded two Palestinian militants and eight bystanders in the southern Gaza Strip on Sunday, Palestinian hospital officials said.
The militants were riding a motorcycle near the town of Rafah which borders Egypt's Sinai peninsula. One of them and a bystander were in a critical condition, the officials said.
The bystanders included three children, a woman and an elderly man.
The Israeli military said the two militants were members of "Global Jihadist" groups based in the Gaza Strip who had for years attacked Israeli civilians and troops and were also involved in weapons manufacturing.
The military named the two men as Talat Jarbi and Mohammed Makawi and indicated the strike was aimed specifically at them.
Israeli uses manned and unmanned aircraft to strike at militants in the Gaza Strip which is controlled by the Iranian-backed Islamist Hamas group. Hamas has for months taken a back seat in attacking Israel, leaving other groups to take the lead.
But Israel holds Hamas responsible for security in Gaza which the Islamists seized in 2007 from the Western-backed Mahmoud Abbas, who remains the Palestinian leader in the occupied West Bank.
There was no immediate comment from Hamas on the strike, but in the past Gaza's ruling faction has accused Israel of escalating violence in the Gaza Strip and provoking militants to carry out further attacks.