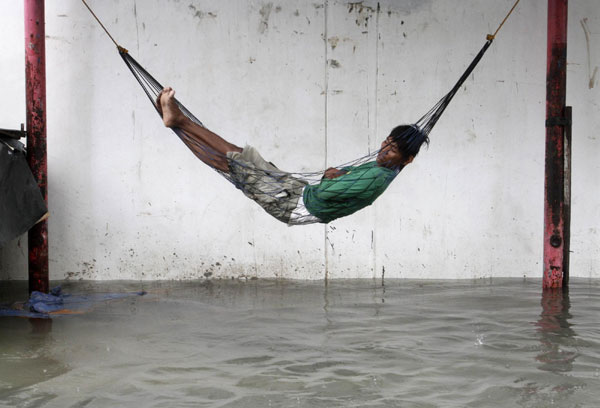 A worker sleeps on a hammock above a flooded street during heavy downpour brought by Typhoon Sanba in Quezon city, metro Manila, on Sept 15, 2012. Typhoon Sanba continues to gain strength over the Philippine Sea as it moves farther away from the Philippines, according to the state weather bureau. [Photo/Agencies]
MANILA - A 70-year old fisherman was killed and over a hundred families were displaced due to bad weather caused by Typhoon Sanba in the Philippines, a senior government official said Saturday.
Benito Ramos, National Disaster Risk Reduction and Management Council (NDRRMC) executive director, said that 70-year old Juan Cabales of Tomas Oppus, a town in central Philippine province of Southern Leyte, went on fishing last Thursday, but his body was found off the shore of Kawayan village of Libangon town in the same province two days later.
Ramos also said that continuous rain in Metro Manila since Friday night until Saturday had caused massive flooding, which forced over a hundred families, or about 400 individuals, in 14 villages in Quezon City and San Juan City to evacuate.
The affected families were evacuated either in the villages' halls, elementary schools, covered court, church and gymnasium, he added.
The Philippine state-weather forecasting agency said Sanba, which will not directly affect the country, would continue to enhance southwest monsoon that would bring occasional moderate to heavy rains over Central Luzon, Metro Manila, Bicol Region, Calabarzon, Mimaropa and Western Visayas.
"Residents in these areas are advised to be alert against possible flashfloods and landslides," the weather forecasting bureau said.