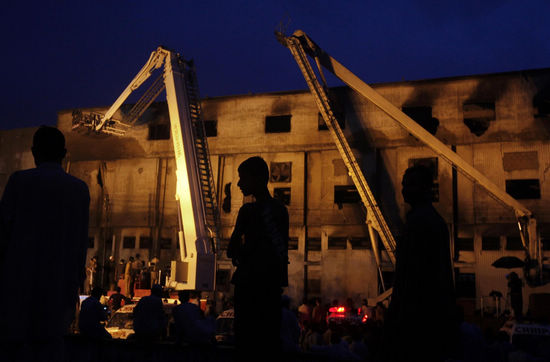 Men are silhouetted against a garment factory which caught fire in Karachi September 12, 2012. [Photo/Agencies]
ISLAMABAD - A total of 289 people have been confirmed dead and another 249 have been injured in the Karachi factory fire that broke out on Tuesday evening, said Pakistan's Sindh Province Governor Ishrat ul Ebad on Wednesday.
This is the latest figures announced by the government regarding the casualties of the deadly fire that erupted in a garments factory in the province's capital Karachi at about 6:00 pm Tuesday.
These are not the final figures as the rescue work for the recovery of more bodies trapped inside the badly burnt building is still underway, said rescue officials, adding that the rescue work has slowed down as night set in and rains started.
There is no light on the rescue site as some electricity problem occurred in the area, said local media, adding that this has seriously affected the progress of the rescue work.
Tuesday's factory fire in Karachi is the worst of its kind ever reported in the country in the last few years.  
Both Pakistani President Zardari and Prime Minister Ashraf have expressed deep sorrow over the tremendous loss of lives in the fire. Pakistani Prime Minister Ashraf, who is currently in China for a visit, has instructed the relevant departments to give the best possible medial treatment to the injured people.
Sindh Governor has announced a one-day mourning for the fire victims on Wednesday.
The provincial industrial minister of Sindh has announced a compensation of 500,000 rupees (about $5,300) and 200, 000 rupees (about $2,100) each for the killed and injured in the fire respectively.
Police department of the city has put the names of the factory's owners on the Exit-Control-List to prevent them from fleeing the country. A manhunt for the owners is already on the way.    
The cause of the fire is yet to be determined.
Latest news coming in said that the one of the main owners of the factory which is a family business had received life threat from local mafia before the fire incident.
They threatened to kill him and set his factory on fire if he failed to pay them 500 million rupees ($5.3 million), said police sources, adding that the owner left the country about two weeks ago after he had received the threat.
Earlier on Wednesday, local media quoted Pakistani Interior Minister Rehman Malik as saying that the Karachi factory fire seemed to be an activity of terrorists as it coincided with another big fire in Lahore.
On Tuesday, a few hours before the Karachi fire, a shoe factory in the northern outskirts of Lahore, another big city in the country's eastern Punjab province, also caught a huge fire, leaving 26 people killed and another 26 injured.    
There were unconfirmed reports saying that both fires first started from the generators at each of the factories.