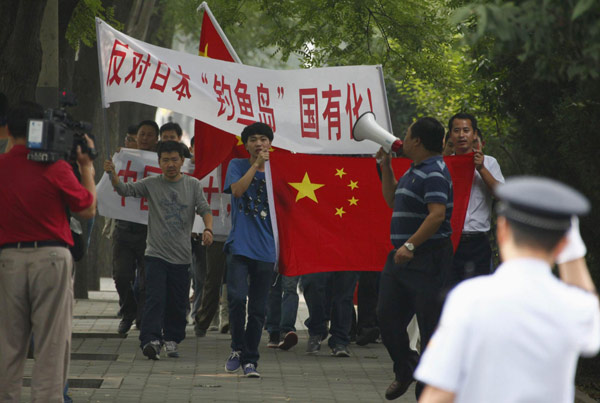 Demonstrators hold banners and Chinese national flags as they shout slogans during an anti-Japan protest outside the Japanese embassy in Beijing Sept 11, 2012. [Photo/Agencies]
TOKYO - Japanese cabinet on Tuesday appointed Shinichi Nishimiya as the new ambassador to China, replacing Uichiro Niwa.
The cabinet also appointed Koro Bessho, 59, as the ambassador to South Korea replacing Masatoshi Muto, and appointed Kenichiro Sasae, 60, as the new ambassador to the United States, according to the Foreign Ministry.
Nishimiya, 60, has been deputy minister in charge of economic affairs since 2011, and has been Japan's consul general in New York.
The Japanese government has exchanged the official contract on the purchase of Diaoyu Islands with Kurihara family whom the Japanese side called "the private owner" Tuesday morning, despite strong protest from China.

Japan's Chief Cabinet Secretary Osamu Fujimura announced Monday afternoon that the Japanese government hopes the purchase would not undermine the overall bilateral relations with China.
The Chinese Foreign Ministry reacted quickly on Monday, saying Japan's purchase of the islands is illegal and invalid and China firmly opposes the move.
Chinese President Hu Jintao, during his meeting with Japanese Prime Minister Yoshihiko Noda on the sidelines of the APEC summit on Sunday, made clear China's position on relations with Japan and on the Diaoyu Islands issue.
Hu pointed out that China-Japan relations had recently faced a severe situation due to the Diaoyu Islands issue.