WASHINGTON - SpaceX's unmanned Dragon capsule docked with the International Space Station on Friday and became the first commercial spacecraft to reach the orbital outpost.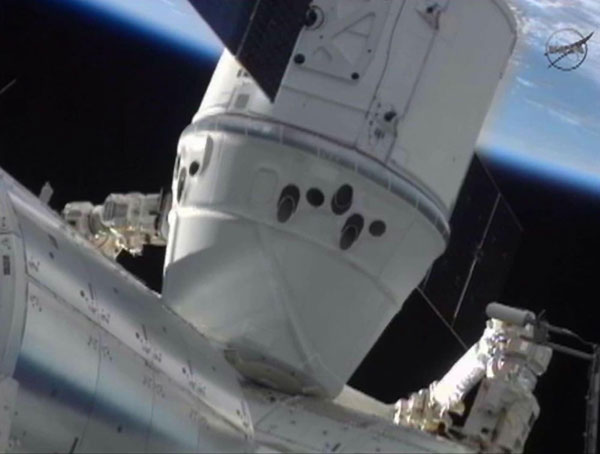 The SpaceX Dragon commercial cargo craft docks with the International Space Station using the station's Canadarm2 in this image captured from NASA TV May 25, 2012. [Photo/Agencies] 
According to US space agency NASA, the capsule was securely bolted to the Harmony module of the station at 12:02 pm EDT. ( 1602 GMT), following a grab by the station's robotic arm earlier in the day.
"Dragon has attached with the International Space Station!!!! History has been made!!!" California-based private company SpaceX announced through its Twitter account following the docking.
The cone-shaped Dragon capsule is 19 feet tall and 12 feet across. It carries more than 1,000 pounds of cargo, mostly food and clothing - items that NASA regards as no big loss should the launching fail.
The station's hatches are set to open on Saturday for the unloading of the Dragon's more than half ton of cargo to begin.
Dragon will remain at the space station for nearly a week. Then, it will be unberthed next Thursday and will head back to Earth where it is planned to re-enter the atmosphere and splashdown off the coast of southern California.
"Now that a US company has proven its ability to resupply the space station, it opens a new frontier for commercial opportunities in space and new job creation opportunities right here in the US," NASA Administrator Charles Bolden said in a statement.
White House science adviser John Holdren also hailed the achievement.
"For the first time, a private American company has successfully launched a spacecraft into orbit and berthed it with the International Space Station - an achievement of historic scientific and technological significance and a key milepost in President Obama's vision for America's continued leadership in space," Holdren said in a statement.
"I could not be prouder of our scientists and engineers - both government and private sector employees - who have contributed to this historic mission," he said.
What sets the Dragon apart from other capsules is that it can bring back space station experiments and old equipment as the space shuttles did. None of the Russian, European or Japanese supply ships do that - they burn up when they return to Earth. The Russian Soyuz vehicles that ferry astronauts have little room to spare.
If the mission is successful, SpaceX would collect the remaining payments on a 396-million-USdollar agreement with NASA to develop the cargo ship. SpaceX would then enter a 1.6-billion- dollar contract for a dozen cargo flights to the station.
SpaceX launched Dragon from Cape Canaveral on Tuesday with its Falcon 9 rocket. On Thursday, the capsule came within 1.6 miles of the space station in a practice fly-by.
Before Dragon's lift-off, flights to the space station have always been a government-only affair.
Until their retirement last summer, US space shuttles carried most of the gear and many of the astronauts to the orbiting outpost. Since then, American astronauts have had to rely on Russian capsules for rides. European, Japanese and Russian supply ships have been delivering cargo.
NASA is looking to the private sector, in this post-shuttle era, to get American astronauts launching again from US soil. It will be at least four to five years before SpaceX or any other private operator is capable of flying astronauts.