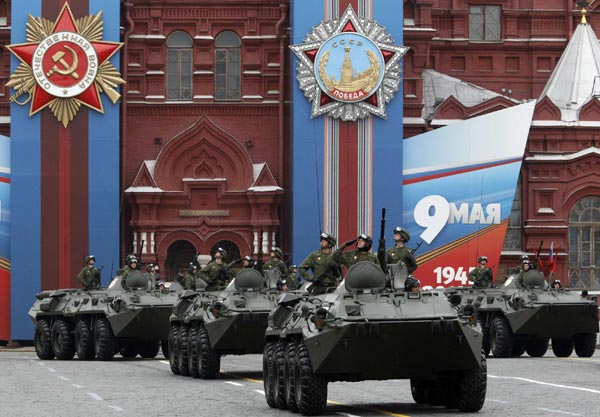 Crew members salute from the top of armoured personnel carriers as they participate in the Victory Parade on Moscow's Red Square May 9, 2012. Russia celebrates the 67th anniversary of the victory over Nazi Germany on Wednesday. [Photo/Agencies]
MOSCOW - A military parade Wednesday in Red Square highlighted the 67th anniversary of the Soviet victory over Nazi Germany in the Great Patriotic War.
Newly inaugurated President Vladimir Putin and new Prime Minister Dmitry Medvedev were among a number of Russian and foreign dignitaries who attended the celebration.
Putin, who took office on Monday, delivered a speech at the parade, stressing that the sacrifices made by the Soviet Union in the triumph over Nazism gave Russia an unquestionable right to advance its position on global security.
"Russia has been implementing a policy aimed at strengthening peace and security in the world. We have a great moral right to stand for our stance," Putin said.
The Soviet Union lost 27 million lives in the war. In addition, 1,700 cities and towns were destroyed and many historical and cultural sites and relics were completely ruined.
The Wednesday parade involved some 14,000 soldiers and cadets and over 100 pieces of military hardware, including Topol-M ballistic missile launchers, S-400 Triumph air defense missiles and Iskander-M missile launchers.
The parade ended after a group of Mi-8 multi-role helicopters, carrying Russian state and military flags, flew over the Red Square.
May 9 has been a major national holiday in Russia every year since the war. People gather in city squares across Russia to celebrate the hard-won victory and lay wreaths at the Tombs of the Unknown Soldiers.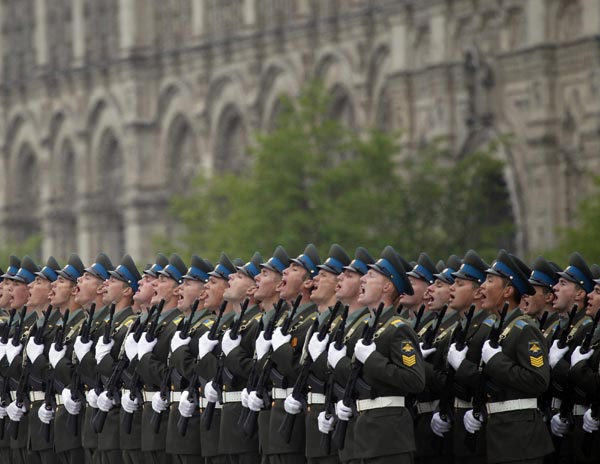 Russian servicemen take part in the Victory Parade on Moscow's Red Square May 9, 2012. [Photo/Agencies]