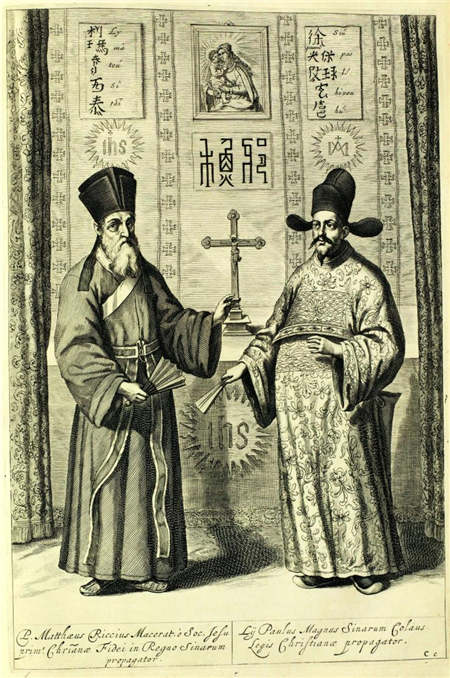 Matteo Ricci and Xu Guangqi, a Ming Dynasty politician and scientist who Ricci befriended. [Photo provided to China Daily]
Missionaries in China from the 16th century had royal reins placed on their work.
"The moment they sought help from a Chinese emperor was the moment they placed themselves in the hands of these powerful-and often equally intelligent-men. But the manipulation, if that's what you want to call it, was mutual," says Zhang Xiping, whose book Following the Steps of Matteo Ricci to China offers tantalizing glimpses into a group of adventurer-missionaries who arrived in between the 16th and 19th centuries. Most would never see the land of their birth again.
One example involves Emperor Shunzhi (1638-1661), the first emperor of the Qing Dynasty to enter Beijing, and Johann Adam Schall von Bell, a German Jesuit missionary who so impressed the young emperor that he regarded him as his mentor and confidant.
In 1652 the religious leader of Tibet, the Dalai Lama, planned to travel to Beijing and pay tribute to Shunzhi. As with the preparation of every major event of the time, a close reading of the stars was required. The task was traditionally reserved for the emperor's Astro-Calendric Bureau, an organization headed by von Bell and later by his missionary successors who, too, were astronomers.
Von Bell reported to Shunzhi that sunspots had appeared and that a "threatening meteor" was seen close to the polestar. The sunspots were interpreted as representing the Dalai Lama, who was about to obscure the radiance of "the sun"-the emperor himself. And the now "threatened" polestar, in the north, was a symbol of royal authority in feudal China.