Sky-high ambition to fulfill an 'unreachable' dream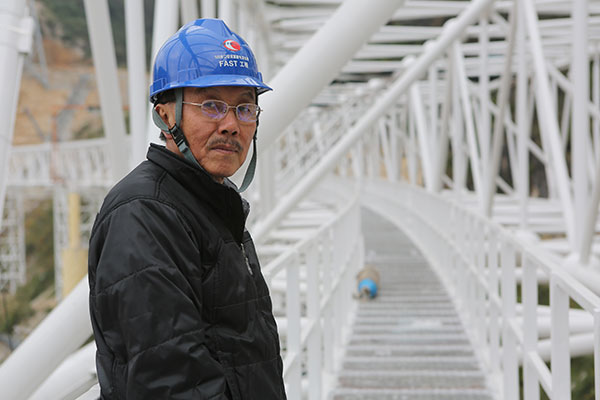 Nan Rendong was the chief scientist of the project. [Photo provided to China Daily]
A bold idea came to Nan Rendong's mind in the early 1990s, and it took him more than two decades to fulfill his "unreachable" dream.
The idea was to build a radio telescope measuring 500 meters in diameter, even though the biggest one in China at that time was less than 30 meters across.
Nan introduced the idea at the International Union of Radio Science General Assembly and Scientific Symposium in Japan in 1993. After more than two decades of development, the project finally came to fruition when China's Five-hundred-meter Aperture Spherical Telescope, or FAST, the world's largest and most sensitive radio telescope opened in 2016.
FAST's 500-meter-wide dish is as large as 30 soccer fields. It was created with the objective of searching for pulsars, identifying neutral hydrogen, interstellar molecules and signals from extraterrestrial life.
Nan, chief scientist of the FAST project, witnessed the completion of the radio telescope on site, despite the fact he had already been diagnosed with lung cancer by then.
FAST is able to receive electromagnetic signals from 10 billion light years away, and with it Nan hoped "to discover the origins of the universe, the origins of celestial bodies, and the origins of life".
"The reason humans finally stand out after having evolved from much lower forms of life to what we are now-a developed human civilization-is because we've always kept alive the spirit of exploring the unknown," Nan said.
FAST, also known as the Sky Eye, had just started to "watch" the edge of the universe, while the founding father of the project closed his eyes for the last time. On Sept 15, just 10 days before the first anniversary of FAST, Nan passed away at the age of 72, leaving the chance to other Chinese astronomers to make a breakthrough discovery.
Born in 1945, Nan was the top-scorer in the college entrance exam in his native Jilin province before he enrolled in the department of radio electronics at Tsinghua University in 1963.
Nan was working as a visiting professor at the National Astronomical Observatory of Japan in the 1990s when he decided to try and realize his ambition. Giving up the well-paid position at one of the world's top scientific research institutes, Nan returned to China in 1994 to lead the FAST project.
The first challenge Nan and his team met with was to identify a suitable location-a problem that took the astronomer 12 years to resolve.
Finally, when Nan discovered a large crater hidden away in a mountainous area of Pingtang county, Guizhou province, he knew immediately he had found what he was looking for.