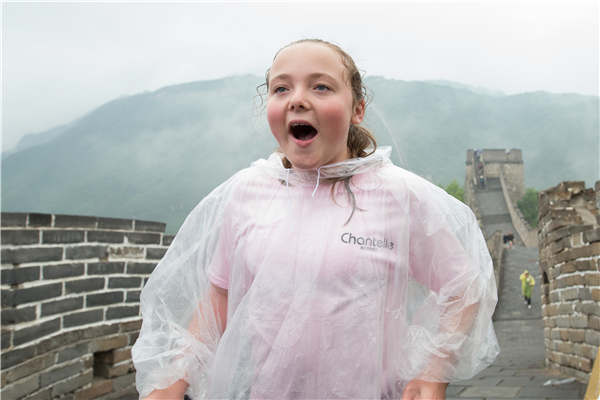 Taylor Walker-Lear is amazed after climbing to the highest spot of the Great Wall in Beijing on June 6. [Photo/Xinhua]
Australian schoolgirl with cerebral palsy shows willpower in China
Once built to keep invaders out, the Great Wall, one of China's best-known faces, has now become a platform to bring people together. For Taylor Walker-Lear, an 11-year-old Australian schoolgirl, it is a magic ladder which carried her closer to her dream.
Taylor was born with cerebral palsy, a disorder that affects movement and coordination. But her indomitable willpower has sent her on missions to create public awareness about the disorder and raise funds for people living with it.
In March 2016, she summited Mount Kosciuszko, the highest mountain in Australia at 2,229 meters above sea level. When her mother Toni asked her what her next goal was, she answered: "Mount Everest might be a little too hard right now, but maybe the Great Wall."
On June 6 this year, her wish came true. With her walking aid, the sup-port of her parents and sponsor, and accompanied by a group of primary school volunteers from Beijing, Taylor realized her dream in China by climbing the stretch of the Great Wall known as Mutianyu despite rain and an ensuing chill.
The Mutianyu part was built by General Xu Da in the early Ming Dynasty (1368-1644) more than 600 years ago, and was mainly used for military defense.
Taylor moved ahead slowly yet steadily, and with determination. When the stairs were too steep to maneuver on her own, her parents lifted her, encouraging her to keep going.
The journey started near Watch Tower No 14, somewhere in the middle of the Mutianyu Great Wall. In the dim and cramped tower, Taylor attentively listened to the guide narrating the long history of the Great Wall. Then she went to a little window in the tower to look at the magnificent view below.
"It's amazingly beautiful!" she told Xinhua.
Her father Simon said China holds a "magical appeal" for Taylor, even though she couldn't define it exactly.