A couple's mission to green a desert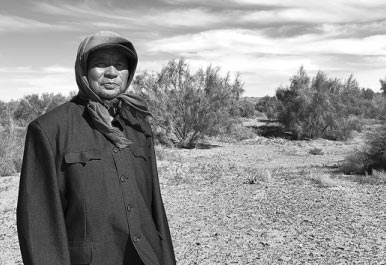 Tubbat is devoted to planting trees in the desert in his hometown in the Inner Mongolia autonomous region. [Photo by Yuan Hui/China Daily]
Tubbat rises with the sun and hops on his motorbike to ride 30 kilometers to tend to a saxual forest that was once desert.
The 65-year-old and his wife, Tosontsagaan, have spent 15 years beating back the desert in the Inner Mongolia autonomous region.
Tubbat treats each saxaul-a nearly leafless tree which grows in sandy soil-like his child. He waters them and continues to plant more every spring.
He has planted more than 50,000 saxauls on a plot about the size of 133 soccer fields.
Tubbat is a villager in Inner Mongolia's Ejin Banner, where the Badain Jaran Desert, one of China's four biggest deserts, is located.
At the beginning of the last century, Ejin was a picturesque place with lakes, grasslands and forests.
"When I was a child, there were lakes, saxaul forests and animals. And it rained a lot," says Tubbat.
Sand storms devoured the green land. Herders had to move.
Tubbat decided to devote to planting trees in 2002, after he retired from his job as a government official. Tosontsagaan supported his decision.
Since then, they have been planting trees, carrying water and building fences.
They did all this for free and even spent most of their retirement fund.