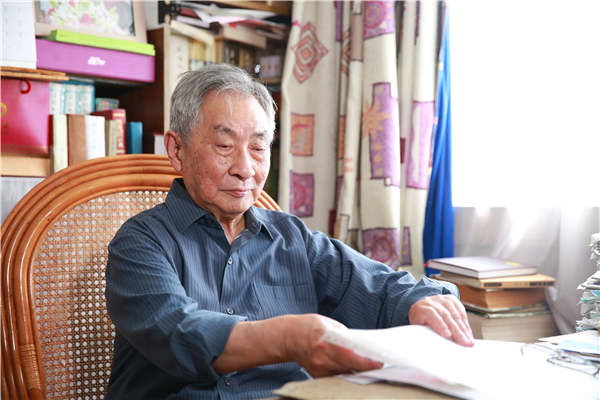 Qian Yunda, 88, is one of the earliest Chinese animators who has worked for Shanghai Animation Film Studio Co Ltd for 30 years. [Photo provided to China Daily]
After losing its way, an industry looks to get back on track
In his apartment in downtown Shanghai the animated-film director Qian Yunda carefully takes out a folder filled with thousands of drafts of scripts and plans of sets for the 1983 animated movie Secrets of the Heavenly Book.
Tens of millions of Chinese have become well acquainted to many of the film's long cast of characters, but Qian begins reeling off behind-the-scenes tales about them that few would know.
When Qian is in full flight telling these stories there is no stopping him. In fact he takes you on a journey through time in which you are given a fleeting insight into the years in which the Chinese animation industry took off and thrived.
Qian, 88, was one of the earliest Chinese animators who received government sponsorship to study overseas and has devoted his life to the homegrown animation industry.
For about 30 years he worked for Shanghai Animation Film Studio Co Ltd, the longest-running and largest studio of its kind in the country.
The studio, which this year has been celebrating the 60th anniversary of its founding, has been a prolific contributor to China's animated movie industry, turning out 500 movies and TV series with a total running time of 40,000 minutes and has won more than 200 awards in China and elsewhere.