Prescient author now rules the roost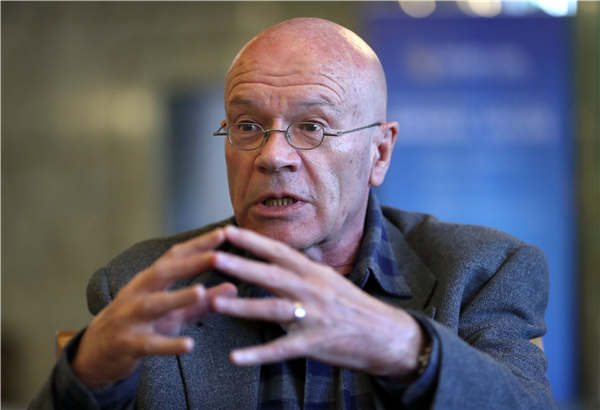 Martin Jacques sees China as having moved into a new historical period after the election of Xi Jinping as general secretary of the Central Committee of the CPC in November 2012. [Photo by Zou Hong/China Daily]
Writer who predicted the rise of China as a global power argues country has proved its model of governance works.
Martin Jacques, the journalist and academic, is now seen by many as the man of the moment in China.
Eight years ago, his seminal and best-selling work, When China Rules The World - which was one of the first to seriously examine the implications of the rise of the former Middle Kingdom - was widely criticized when it was published. It was even dismissed by former Hong Kong governor Chris Patten as "silly".
With a newly self-confident China striding into a "new era" after the CPC's 19th National Congress last month, his ideas are very much in vogue.
Jacques, a youthful 72, perhaps not unnaturally, feels slightly vindicated.
"I have spent a lifetime thinking deeply about a lot of political and cultural questions and I didn't find it difficult to see that China was rising and the West was declining. If you look at a lot of China writers, however, they never got it," he says.
Jacques, who was a sought-after guest on Chinese and international television channels during the meeting, was speaking at Shaoyuan Hotel on the Peking University campus, where he was lecturing.
Also visiting professor at the China Institute at Fudan University in Shanghai, he believes the congress, during which Xi Jinping Thought on Socialism with Chinese Characteristics for a New Era was enshrined in the Party's Constitution, was a defining moment.
"Xi wanted to underscore the fact that the Chinese economy is not gravitating toward capitalism. It is not going to end up as a Western-style economy or a Western-style polity and that it is going to remain profoundly different. And, in that sense, it remains firmly in a socialist rather than capitalist tradition."
Jacques believes the global financial crisis of 2008 and 2009 began to herald a change in the world which he believes has been followed by what he sees as a governance crisis in the West, providing the backdrop for a resurgent China.