Online progress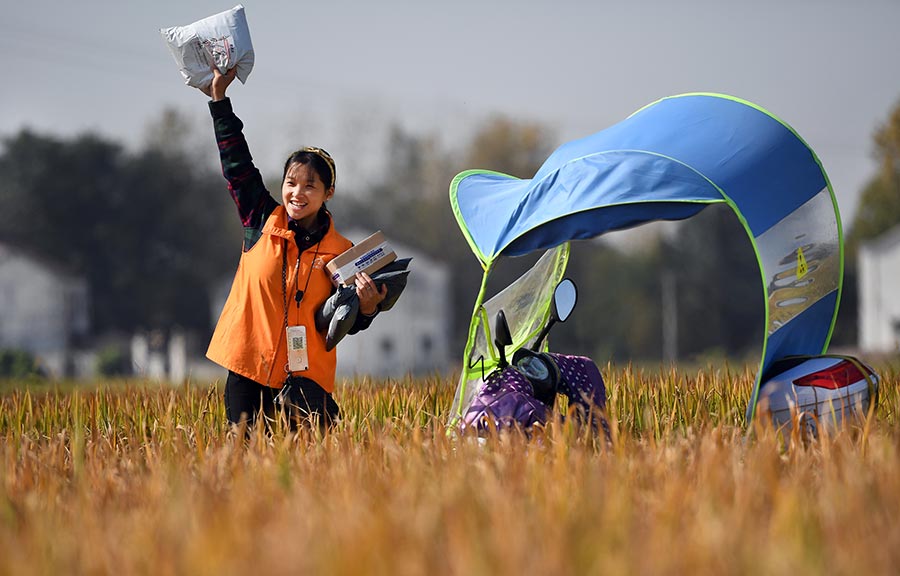 He Linqiong, Huang Bin's wife delivers express mails to villagers working in the filed. [Photo/Xinhua]
Twenty-nine-year-old Huang Bin from Baishenmiao town, Shucheng county in Anhui province suffers from cerebral palsy. So, he started to run a small shop in his village after he finished junior high.
In 2010, Huang Bin opened an online shop on Taobao to sell clothes.
Then, in 2013, Huang Bin met He Linqiong, a girl in Sichuan, online, and his cleverness and sincerity won the girl's heart.
Soon they got married.
Later, in 2015, with the help of his wife, Huang Bin completed the training to become a valid partner of the Village Taobao program to facilitate online shopping and delivery in rural areas.
Since then, the couple have done a lot of work online and offline to let villagers around understand the convenience and benefits of online transactions.
In 2015, the number of online shopping orders he received was 4,516, worth 763,000 yuan ($ 114,960).
Huang's online shop is getting popular by the day as more people in the rural areas gain access to the internet.