In love with the grottoes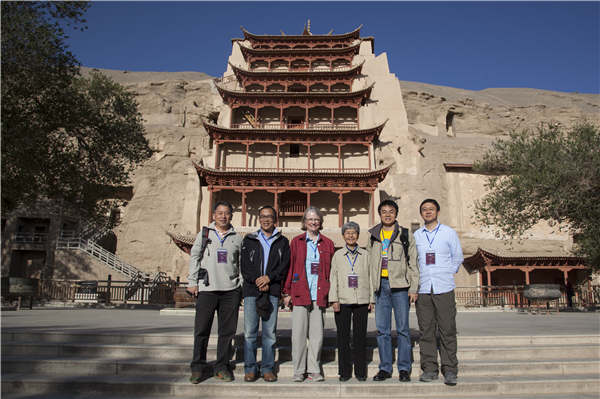 Mimi Gates (third from left) and Fan Jinshi (fourth from left), former head of the Dunhuang Research Academy. Gates has worked closely with the academy for years. [Photo by Ding Xiaosheng/For China Daily]
The 74-year-old US art historian Mimi Gates has passionately participated in the conservation of the Dunhuang relics for years. Liu Xiangrui reports.
When Mimi Gates speaks about the Mogao Grottoes in Dunhuang, Northwest China's Gansu province, she goes from the cultural and historical background of the caves to the vivid details of certain paintings there.
The 74-year-old US art historian has served as the chair of the Dunhuang Foundation in the United States since 2010 and has participated in the conservation of Dunhuang's relics for years.
Looking back, Gates says the decision to visit Asia when she was young instead of studying in Italy, as her parents wished, changed her life.
She found herself attracted to Asian culture, and decided to start with China.
So Gates studied Chinese language and history when she was a student at Stanford University. She later earned a master's degree in Oriental and Chinese Studies from the University of Iowa, and a PhD in Art History from Yale University.
"Chinese art was always close to my heart, and it was always my primary interest," says Gates.
She worked at the Yale University Art Gallery for years, first as a curator and later as its director. She became the head of the Seattle Art Museum in 1994, and she married William H. Gates Sr, the father of Microsoft founder Bill Gates, in 1996.
Mimi Gates paid her first visit to Dunhuang in 1995, as director of the Seattle museum, and "had a brief glimpse of the greatness of Dunhuang".
The Dunhuang grottoes are a 1,600-year-old UNESCO World Heritage site comprising about 500 caves and a large collection of Buddhist art, such as statues and murals.
She was invited to return in 2009 to present a paper on visitor experience at a conference there. Spending a few days there, Gates visited the caves whenever she had free time.
When Fan Jinshi, the then-head of the Dunhuang Research Academy, visited the US to raise funds for the protection of the site, Gates suggested setting up a foundation and accepted Fan's offer to help organize and chair the foundation.
"The idea was to encourage Americans to support Dunhuang, because it is such a spectacular site, and I think it is so important to humanity," says Gates.