From 2001 to 2017, memories of 'Meteor Garden'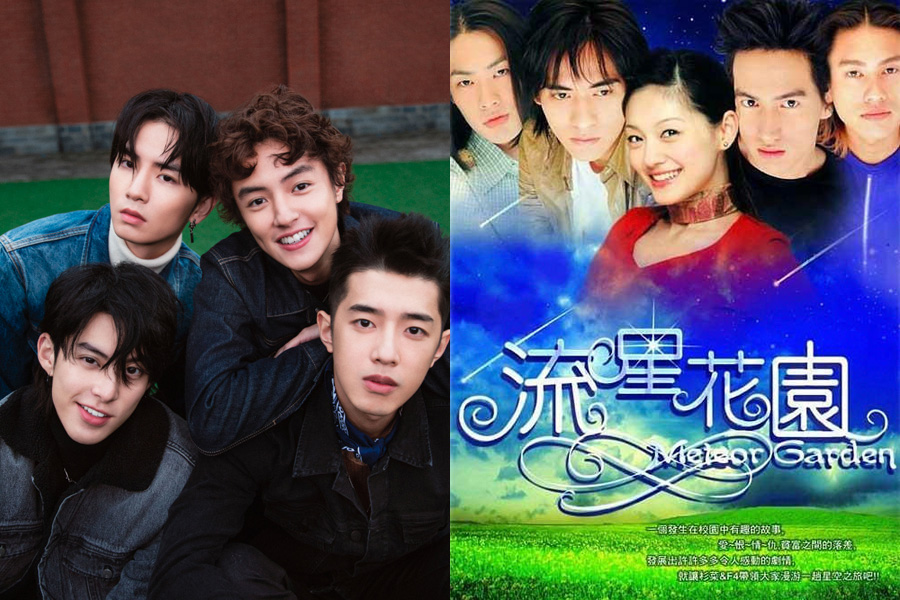 The photo shows a comparison of the 2018 F4 version and original F4 band. [Photo/Mtime]
On August 12, 2001, a mega-hit Taiwanese drama called Meteor Garden was born.
No one could imagine such a romance could bring about a huge wave of cultural influence to the Chinese mainland and Asia as a whole.
To a majority of post-80s and post-90s people living in Chinese mainland, Meteor Garden could be the first idol drama they saw in their life.
The story centers around a poor yet pretty girl named Muye Shancai, who follows her parents' wish to go to an university only for rich people.
The university is dominated by rich and handsome but arrogant students, including Daoming Si, Huaze Lei, Meizuo Ling, and Ximen Yan.
They are heirs to four rich and influential families in Taiwan. They terrorize the school by handing out red cards to those they do not like, but all things change because of Muye Shancai. Also, a romantic story goes on among those young people.
Based on the Japanese manga series Boys over Flowers, or Hana Yori Dango in Japanese, written by Yoko Kamio, the drama stars Barbie Shu, Jerry Yan, Vic Zhou, Vanness Wu and Ken Chu.
They are widely known as the musical band F4, which means four flowers in English.
As one of the most successful bands in Chinese entertainment history, they have brought unforgettable memories to a generation of people.
Now, the original producer Angie Chai has decided to remake the classic drama and the new version is expected to hit the small screen next year.
From 2001 to 2017, Meteor Garden has been reshot by many countries and regions including the Chinese mainland, Japan, South Korea and the United States.