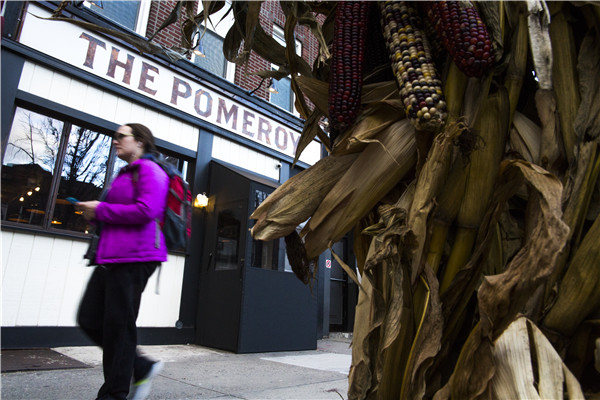 Bo O'Connor is chef and co-owner of the Pomeroy restaurant, which built buzz after a visit by O'Conno'rs childhood friend, the pop star Lady Gaga. [Photo/Agencies]
Positive side effect of gentrification in the 'Big Apple' borough is a flourishing food scene that boasts Michelin-approved food that is affordable
Foodies are flocking to Queens, the New York borough that has long lived in the shadow of glitzy Manhattan, as it emerges as a treasure trove of good eats.
From gastropubs popping up all over the place, to Michelin-starred cuisine, the hot new food scene reflects the steady gentrification in the area.
People in the know are trekking across the East River to explore this new culinary hub.
Something changed in Queens one evening in October 2015 when Lady Gaga, wearing a pink dress, walked down the street in the Astoria neighborhood to attend the opening of The Pomeroy, a hip restaurant run by a childhood friend, chef Bo O'Connor.
Her appearance helped New Yorkers realize that Queens had erased its image of humdrum suburbia.
Astoria - the Queens neighborhood closest to Manhattan - is at the cutting edge of this movement.
"A new restaurant and bar is opening almost every month," says Dixie Roberts, a freelance journalist who works for the website "We Heart Astoria" and lives close to The Pomeroy.
"Five years ago, there wasn't that many places," says O'Connor. "This area definitely hadn't developed. But in the past two and a half years, it's really been incredible."