Ready for breaded cutlets of a different kind? Cauliflower!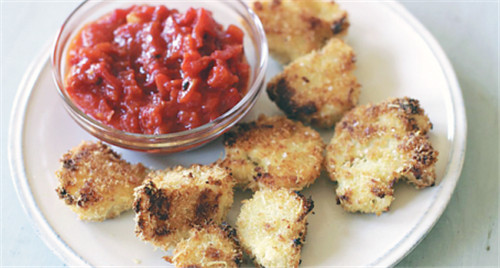 Breaded cauliflower cutlets with marinara sauce from a recipe by Sara Moulton. [Photo/Agencies]
Let's say that one of your New Year's resolutions is to eat healthier and lose some weight. Join the crowd, right?
In practice, what we probably mean-among other things-is that we plan to eat more vegetables and less meat. It's a challenge. But if you try this dish-a wonderful vegetarian version of breaded veal (or pork or chicken) cutlets swimming in a marina sauce-you will see how easy and satisfying it can be to turn a resolution into reality.
The biggest flavor is going to come from the marinara sauce. Your brain likely won't care at all whether the cutlet is veal or vegetable. But your body will thank you.
Breaded cauliflower cutlets with marinara
Start to finish: 1 hour 15 minutes (45 minutes active)
Servings: 4
1/4 cup extra-virgin olive oil
2 teaspoons minced garlic
I large head cauliflower
3 large eggs, lightly beaten
1/2 cup fat-free plain Greek yogurt
1 teaspoon kosher salt, divided
1/2 cup cornstarch
1 3/4 cups panko breadcrumbs
1 ounce grated Parmesan cheese
1 1/2 cups speedy marinara (recipe below) or store-bought marinara, heated
Heat the oven to 400 F.
In a small bowl, combine the oil and the garlic. Set aside.
Pull off any leaves from the stem end of the cauliflower and trim off just enough of the stem so the cauliflower stands flat on the counter. Slice the cauliflower head in half down the center top to bottom. Set each half onto its cut side. Starting from one end of each half, slice crosswise to create 1/2-inch-thick slices. This will yield 3 to 4 cutlets from the center of each half, with the small ends being chunks. The chunks can be prepared as the cutlets, or reserved for another use.