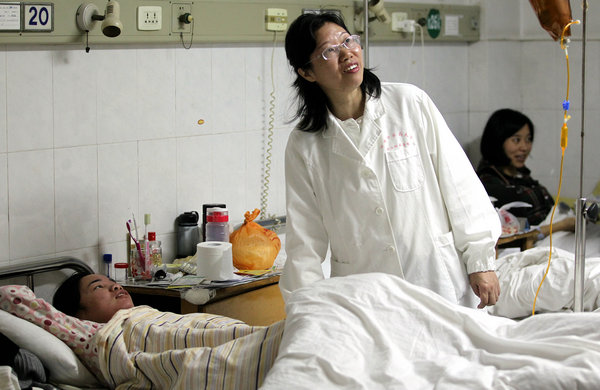 Kuang Jilin, head, Hunan Provincial TCM Hospital in Changsha.[Photo by Zhang Wei / China Daily]
He has made a few trips to Changsha so far, staying in hotels for brief periods. But Zeng, 33, isn't willing to give up. Married for a few years now, he and his 27-year-old wife are stressed because they don't have a child.
"It has impacted our lives," he says, adding that friends from his hometown Yongzhou who had children through IVF told him about this hospital.
He also says he isn't uncomfortable to talk about his treatment. "Male infertility is a common thing."
Zeng says he has been seeing TCM practitioners as well. And, he isn't alone in his parallel pursuit of Western and traditional medicine.
Although the approaches are remarkably different - TCM largely relies on the use of herbs and acupressure - many Chinese prefer to use both streams of medicine to tackle fertility issues as some interviews suggest.
"More than 80 percent of Chinese women tend to accept TCM treatment for infertility, including those that are undergoing treatment under the Western system," says Teng Xiuxiang, 51, director, department of gynecology, Beijing Hospital of Traditional Chinese Medicine.
Qiang Han, a 33-year-old male practitioner of TCM from the same hospital, says these days, Chinese men are becoming fathers only after turning 30. At which point, their sperm quality begins to fall. A sedentary lifestyle and staying up late may also affect male fertility.