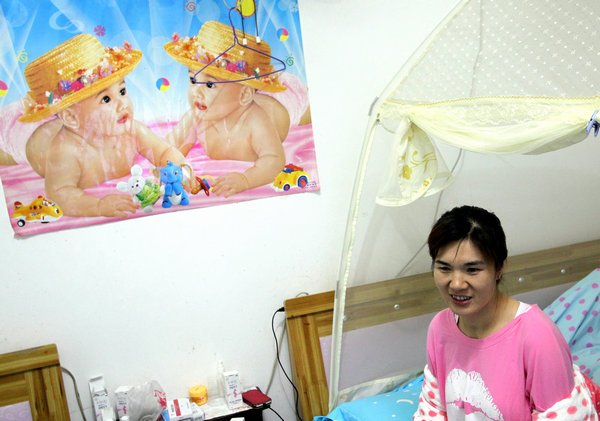 A woman seeking to have a baby through in vitro fertilization in the same city.[Photo by Zhang Wei / China Daily]
Pregnancy watch
In one of Changsha's quiet backstreets, a 35-year-old woman from Yongzhou, a city in the province's south, says she is pregnant with a second child after having failed to conceive through two previous attempts at IVF. Her first child is seven years old and was born without medical help.
Married for eight years, she is from a business family.
Hers was a problem common among infertile women: blockages in the fallopian tubes. The tubes connect the ovaries to the uterus, or womb as it is known in layman's term. Doctors also cite habitual abortions as a major trigger for infertility among Chinese women in the recent times. In the '80s, pelvic tuberculosis was a big culprit, they say.
"My fertility problems started after my first child was born," Jian says, giving a lone name to guard her privacy. "I need to stay here for a month before going back home to ensure that all's well with my pregnancy."
Although China has had a long and successful association with assisted reproduction, many remain sensitive to the topic and prefer to share just their surnames.
A block from Jian's rented house, Liu, 35, and Su, 28, two women from the respective towns of Changda and Yiyang in Hunan, are seen watching a show on a video streaming website while sharing a meal of fish. A branch of Yangtze, the Xiang River flows through Changsha providing the city with fish and a pretty night view.
Liu has taken an indefinite leave from her job at a polytechnic institute in order to pursue her IVF cycles in one of Changsha's hospitals. Following a few useless trails, Liu is finally pregnant but her return home will depend on the successful completion of her first trimester.