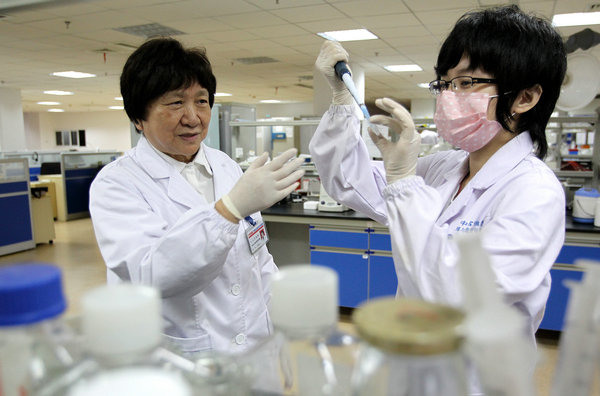 Lu Guangxiu, a veteran gynecologist from Reproductive and Genetic Hospital Citic Xiangya, Changsha.[Photo by Zhang Wei / China Daily]
Assessing the popularity of assisted reproduction in China at a time of policy easing
The alleyways off Xiang Ya Road in Hunan's capital, Changsha, are lined with rows of houses that have common kitchens and bathrooms but separate rooms. Couples from different parts of the province and elsewhere on the Chinese mainland arrive here daily in the hope of becoming parents.
Inside the so-called small hotels, numbering in their hundreds, the wallpapers come more in blue than pink - representing the clich colors for boys and girls worldwide.
The couples rent the rooms at an average cost of 1,200 yuan ($188.28) a month and visit a bunch of hospitals in the area, including banks that preserve sperms and embryos in liquid nitrogen. The facilities have turned this city in Central China into a major destination for assisted reproduction outside of Beijing and Shanghai.
Recent interviews in Changsha and Beijing with many senior doctors, people opting for medical intervention to have children, practitioners of traditional Chinese medicine and a population expert suggest that assisted reproduction continues to be popular in China since the country's first baby through in vitro fertilization in 1988.
While some interviewees say as China loosens its family planning policy, assisted reproduction may rise in relevance, others point to levels of infertility in present-day Chinese society as a reason for the sustained draw of IVF, intrauterine insemination and other forms of laboratory-enabled childbearing.
On Oct 29, the Communist Party of China announced an end to the decades-long one-child policy, saying all couples could have two children in the times ahead. The rule change is expected to balance demographics, particularly with regard to the challenges posed by an aging society.